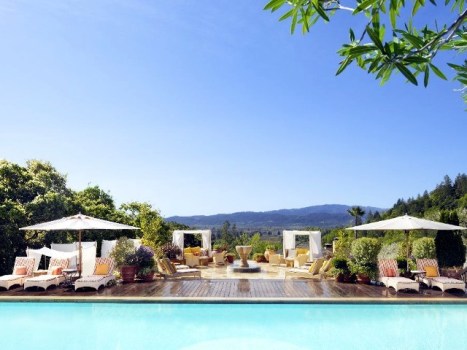 Auberge du Soleil
Auberge du Soleil celebrates its 30th anniversary with a special package.
AUBERGE ANNIVERSARY: Three decades in the hospitality industry is nothing to sniff at. And if, during those three decades, the accolades and awards and Michelin-based props have rolled in, consider yourself a superstar in the lodging firmament. Auberge du Soleil in Napa Valley is the props-laden property we're building to, here, and there are a couple of things to note. One, the resort recently had a top-shelf redo, decor-wise, in its restaurant. And two, Auberge is marking its 30th with a package.
STAY PLUS SUPPER: The 30th Anniversary Package, which runs through November, includes a two-night stay and a Chef's Tasting Menu supper in the restaurant (which indeed has a Michelin star). There will be "Sparkling Wine Greeting," too, which is the best sort of greeting, we feel (note that "additional alcoholic beverages are not included"). Breakfast each day is included, and some cookbooks, and "All Taxes & Gratuities," too. Definitely a posh present for a foodie you love. Price is $1,981.