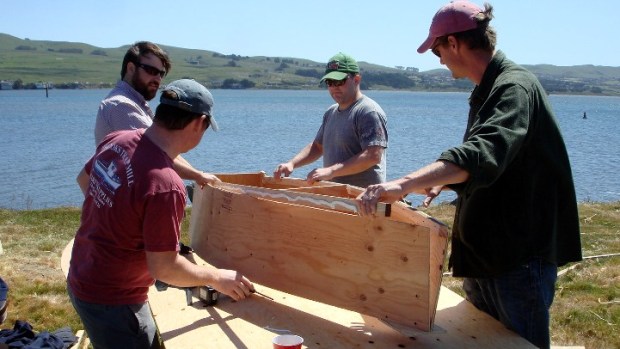 Bodega Bay Fisherman's Festival
The Bodega Bay Fisherman's Festival is on Saturday, April 28 and Sunday, April 29.
NORCAL ON THE MOVE: Creative builders live everywhere, of course, but they seem to have a special affinity for the northern coastal areas of our state. Look to Humboldt County and the famous kinectic race that chugs through the Ferndale-close dairylands each and every year. And look to Bodega Bay, which stages an impressive Wooden Boat Challenge during its annual Fisherman's Festival each spring. We call the boat-building event impressive because of this fact: People must build boats, and then sail them, all within a single day. Could you do it? Especially if you only had three hours to construct a sea-worthy vessel from the materials provided? Without most power tools, save one or two? The word "challenge" is right on target here.
BEYOND THE CHALLENGE: While the Wooden Boat Challenge rightly garners a lot of attention during the 39-year-old weekend-long festival, the Blessing of the Fishing Fleet is also a draw. As it should be; those who fish and those who call the Bodega area home boast strong, wayback ties. There's also a pet parade and other crowd-pleasing to-dos during the Saturday, April 28 and Sunday, April 29 party. Note that the Wooden Boat Challenge goes down -- or floats, rather, we should say -- on Saturday while the Blessing is on Sunday. If you've attended the Fisherman's Festival before, also note that this year's celebration is in honor of the 200th anniversary of nearby Ft. Ross.