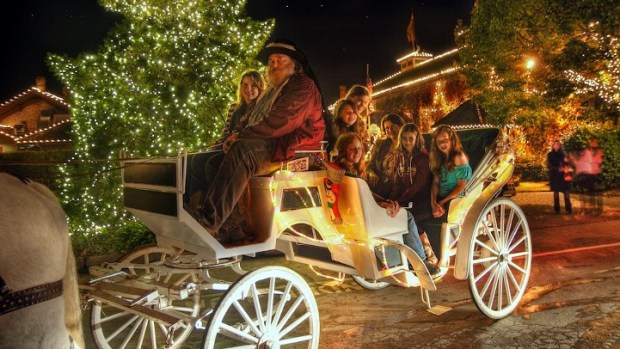 Mars Lasar
Need to jump-start the holiday cheer? Yountville can help in that department. Be at the Festival of Lights on Friday, Nov. 29.
"TASTE LIFE HERE": When many of us have our "running away forever to wine country" fantasies, where we "open a cheese shop and think warm thoughts about sunflowers and pinot grigio all day long," we likely envision Yountville as a possible permanent destination. (Aside: We all share those fantasies, right? Even while we know they are indeed fantasies and wine country is just like anywhere else, except far more postcard-photogenic? Good.) The reason Yountville is way, way up on everyone's "I've had enough of all of this, I'm heading to Napa County, stat" list -- we all share that list, right? -- is it very beautiful. That's not even a subjective opinion but fact. It gets the prettiest of autumns and it has the yellowest of mustard fields and its famous restaurants, like Bouchon Bistro, appear to have been lifted straight from a watercolor, as if by twinkly magic.
WHICH MEANS THIS: When ye olde yuletide revelries roll around, the twinkly-magic-watercolor-pretty-picturesque-ness of the place zooms up the Official Gorgeousness Scale by like a thousand points. Yountville is all set for that happening, though, because the 25th Annual Festival of Lights will do the switch-flipping thing on Friday, Nov. 29. "(T)housands of tiny (energy efficient) twinkling lights" give the town a full on glow. Santa shows and there are carriage rides and there probably will be an opportunity to buy wine and sundries specific to the area. (We jest; of course that's happening). Best of all? This afternoon-to-evening party starts early, at 2 p.m., meaning you can be snug at home and eating leftover turkey by nighttime. Second best of all? It's free. Thanks, Yountville!