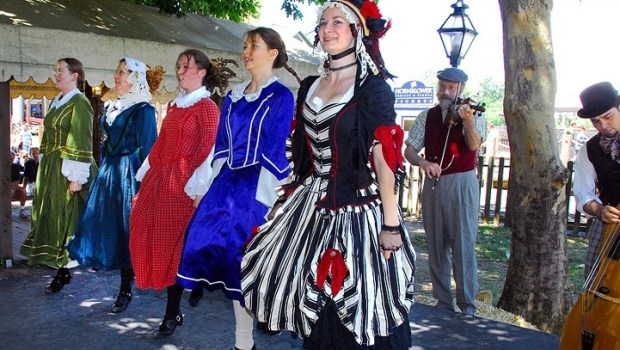 Gold Rush Days
Old Sacramento celebrates Gold Rush Days over Labor Day Weekend.
REGRETS: Everyone has a few major things they are sorry they passed by or didn't do. That's just life, right? But what gets us are all the smaller bits of life we regularly forgo or skip without even realizing it. Us? We never use the word "buckboard" on a regular occasion. We never have the chance to say "gold in them thar hills" (although we ask if people really said that back in the day). And wearing bloomers? Never happens. Regrets. But we can make good on some of those things, at least for a few days, anyway, during Gold Rush Days in Old Sacramento. They're free -- no gold needed to get in -- and they're on over Labor Day Weekend, and if you think that bewhiskered miners'll be out in full force, you'd be correct.
IT'S NOT ALL PANNING: Not by a long shot. Don't think you'll drive to Sacramento to watch that for three days straight. Nope. Pony rides, the firing of cannons, dancing, and games are on the roster. It's very family-oriented, but even if you don't have kids, and you want to wear some boots and fringe-y vest and be all yippee-ki-yay, we say do it. Oh, and here's a neat tidbit: Loads and loads of dirt'll be trucked in to cover the paved streets. Atmosphere and all that. After all, Old Sacramento isn't just trying to summon the spirit of the Gold Rush; this is where people who participated in gold-rushing actually lived and bartered or passed through at some point. Or a lot of them did, anyway. There may have been gold in them thar hills, for a lucky few, but Sactown was one of the many beneficiaries.