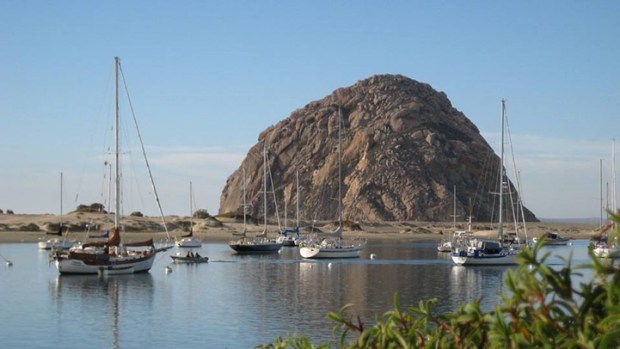 Morro Bay
Morro Bay marks its half-century anniversary with a Founders Day on Thursday, July 17.
THE FOREVER ROCK: When one hears that beautiful Morro Bay is celebrating its 50th anniversary this year, one might be apt to pause, scratch his or her head, and ponder if the ocean burg's most famous symbol showed up a half century ago, too. Did a whole bunch of movers truck Morro Rock just offshore 'round about 1964? Did it suddenly rise from the Pacific, fully formed, one Monday morning? Of course not, although that might be been mighty dramatic. Morro Rock, being an ancient volcanic plug, was around long before the town of Morro Bay ordered the first roadside signs and government letterhead proclaiming itself as incorporated. But it did indeed incorporate, next to the Big Rock, back in 1964, and the picturesque destination is throwing a Founder's Day to commemorate its half century of being the M.B.
COMMUNITY PICNIC: The Thursday, July 17 event is a community picnic, and you can bet there'll be some looking back and history talk, about the town's fishing industry and and farming and dairy contributions and Dahlia Days and tourism. There shall be "1964 memorabilia" to admire and music and birthday cake. But if you can't make it down to the weekday shindig, the town is spotlighting its half-century anniversary all year long. Coming up? The bloomy Dahlia Days and a margarita and guacamole festival in September. A push to restore the all-important eelgrass of Morro Bay is coming up in August, too (and volunteers are needed). It's a place that epitomizes the Central Coast charms often sold to us via brochures, for sure, but it feels extra authentic and sweet in Morro Bay. Call it an enchanted combo of the very ancient mystery of Morro Rock paired with the mid-century style of its early '60s town beginnings. How many places can claim a giant rocky landmark and small-town funkiness? Glad the M.B. rocks 'em both so well.