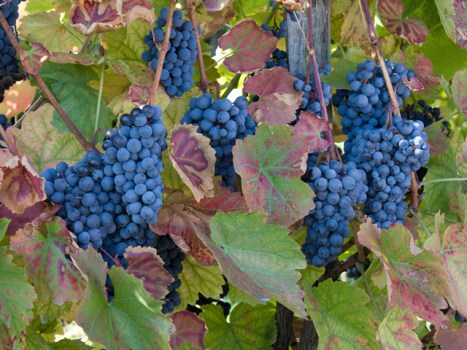 Shutterstock
Fact: Vineyard photos are pretty photos. Taken a great one in Livermore? One is needed for a wine association brochure. If yours is chosen, you could win some tasty (read: wine tasting) stuff.
WHAT A PHOTO SHOULD DO: If you've ever taken Photography 101, or even a two-hour seminar down at the local lens-and-tripod shop, you that taking photos means asking questions first. What should my snapshot convey? What am I saying? Why am I focusing on particular subjects and leaving others out of the frame? These queries are familiar to most anyone who has picked up a camera and started clicking. Here is a question, though, that may seem slightly less familiar but still quite easy to answer: What is the goal of a great wine country photograph? You may want to answer "to promote the joys of the vineyard and give people a look at the grapes," but that is not correct. The goal of a great wine country photo is to make us want to live there, always, eating cheese and crackers and drinking pinot while watching the sunset, each and every night. Truth? Yes. This, however, isn't possible, even for the people who actually do live near and work at wineries, but a fine wine photo should instill a fun bit of want, even envy, in the viewer.
WHICH MEANS THIS: If you've been to Livermore lately, to taste wine at Crooked Vine Winery or Ehrenberg Cellars or Occasio Winery, and you've taken some envious-luscious-want-to-be-there photos, this is your moment. The Livermore Valley Winegrowers Association is looking for a new snapshot for their brochure, and they've got some goodies lined up for the winner. Like? Harvest Wine Celebration tickets, barrel tastings, and so forth. Plus, you get to see your gorgeous grape pic go out on thousands of brochures (quite the feather, or grape leaf, in your cap). Deadline is Dec. 1 -- here are your to-knows.