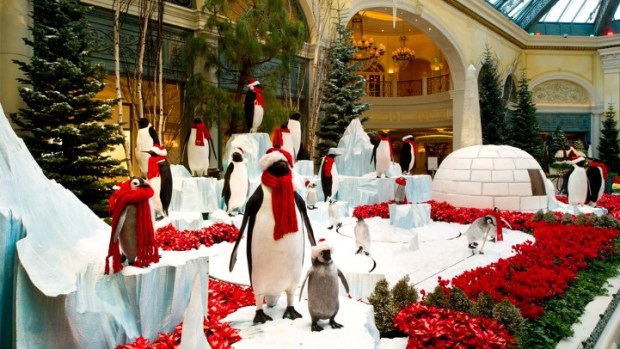 Bellagio
The Bellagio's holiday display is up through Jan. 2, 2012.
DECEMBER IN VEGAS: Many a wag tweaks Sin City for not truly observing the seasons. It can be hard to tell May from December, some say, when you're inside a big hotel or an air-conditioned casino. Of course that isn't true; ever seen snow on the Spring Mountains? Or Elvis in a pair of red and green leis? Or the holiday-special twist at the end of a Strip show? Vegas brings the merry. Of course, the merriest spot on Las Vegas Boulevard, and certainly just about the free-est, is the Bellagio's Conservatory, which changes a few times a year in honor of autumn foliage or the Chinese New Year or the holiday season. And, right now, the Bellagio is in full flower -- or frost, rather -- in anticipation of Christmas.
2011 DESIGN: Yep, there are big penguins. Thirty four in all, and nine move (c'mon -- you know Las Vegas and animatronics go hand-in-mechanical-hand). The famous white carnation-laden polar bears are back. (Real polar bears are not covered with carnations, of course, and we would never recommend attempting to bedeck one in flowers.) And the Shasta Fir on display? Biggest indoor tree in Sin City, and you know that is a town that goes for big. Everything'll stay up through Jan. 2, and again, it is free. Who says you can never find the time in a casino? You can certainly find the time of year at least.