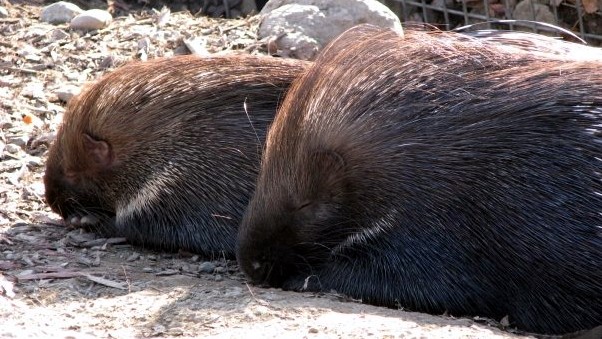 Safari West
Indian Crested Porcupines at Safari West; learn about the romance lives of animals on Saturday, Feb. 11.
ADULTS ONLY: There aren't too many events that take place at a zoo or animal park that are labeled "adults only." Sure, that fancy annual gala that raises money for the institution tends to draw mainly grown-ups, but if a kid shows up that in tiny tux, no one makes much of a fuss. But special Valentine's tours are a different matter. They've become increasingly popular at zoos around the nation, principally because they discuss in a frank way how various beasties make amour. One such tour is happening at Safari West in Santa Rosa on Saturday, Feb. 11; it's called Wild Jungle Love.
CHOCOLATE AND FRANK TALK: The afternoon starts out with a chocolate and wine reception; then visitors head out on the Safari Sex Tour. It's $90 a person, but, if it sells out, or you've got plans on that Saturday, Safari West says it will be holding private tours throughout February (we should mention that you'll travel the grounds in an open-air vehicle; sweet). Now, what animals will you encounter? Giraffes and flamingos and the Bearded Barbet all call the Santa Rosa park home ("Bearded Barbet" is just fun to type); we included a picture of the Indian Crested Porcupines above, because porcupines are amazing and no one can challenge that fact. Plus, we like the pair snoozing together; one only ever sees the porcupine in full bristle. But they can't be when they make romance, right? Right. But there are many, many animals at Safari West, so check out the impressive list.