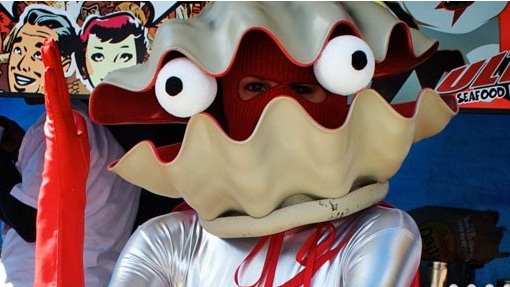 Santa Cruz Beach Boardwalk
It's all clam chowder all the time on the Santa Cruz Beach Boardwalk come Saturday, Feb. 23.
THE BOARDWALK IN WINTER: Personal daydreams run the gamut, but we can all agree on one that we likely share, or at least pop in on now and again: Being at the beach a lot. One can do this if they commit to the surfer lifestyle, or become a lifeguard, or find a way to run a boardwalk. We sense the "boardwalk-running" daydream might not be as popular as the surfing one, but it should be. After all, you get to oversee the merry-go-round, and make sure the custard machines are up to snuff, and that no one ever runs out of cotton candy (that would be some serious business, believe it). But the challenge for the boardwalk boss is a little season called winter. It's not a shocker that, even in semi-sunny California, attendance tends to fall off a bit come the colder months. And custard is cold, as are many classic boardwalk treats. What to do? The answer is simple: Build an event around a warming, beach-appropriate foodstuff that just about everyone is crazy about. Yep, it's clam chowder.
CLAM CHOWDER COOK-OFF: And when you add the word "cook-off" to the popular foodstuff, even better. People like to hang out and see who will be crowned best-of-the-best. The Santa Cruz Beach Boardwalk will be doing just that, again, on Saturday, Feb. 23. We say "again" there and we mean it -- it's year 32 for this tummy-warmer of an event. Categories include Boston and Manhattan (gotta give props for the tomato-lovers out there), and the prizes are good, plane tickets and such. Meaning the cooks'll be cooking to win, meaning that the tasters will be the true victors. A nine-buck "Tasting Kit" nets you five creamy, tomato-licious tastes. What, we can't use "tomato-licious" for a Manhattan chowder? Au contraire. We think we totally can.