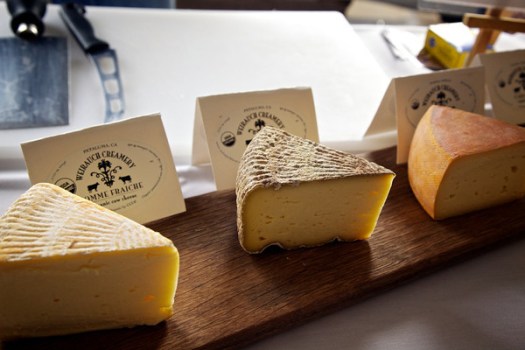 California Artisan Cheese Festival
If you make for Petaluma during the California's Artisan Cheese Festival -- it is happening from Friday, March 22 through Sunday, March 24 -- these will be the sort of sights that greet you.
DAIRY DELIGHTS: A true cheese maven, even the person with the most highbrow of palates would probably avow something sure to be controversial in the wider foodie world: There is no bad cheese. Of course, there can be bad cheese if it gets old or gets run over and squished by a truck (that's not what we're saying). But most cheese, even the most basic and rubbery of types, can be redeemable. No, you probably don't want to slice that stuff up and put it next to some fancy grapes for your next wine party, but you can melty it and mix it in with some macaroni and hot sauce and it can find a little oomphy. That's the beauty of one of the planet's great dairy stories -- there's always hope. And there's always the other end of the scale, the dreamlike bites that are worlds away from rubbery, everyday cheese. The word "artisan" is often used to describe these crumbly, zingy gems, because they're made with love and care in a very hands-on, attention-filled way. These are the cheeses that get celebrated at California's Artisan Cheese Festival, which recently announced its schedule, and the fact that tickets are on sale for the spring gathering.
DAIRY DATES: The 2013 dates are Friday, March 22 through Sunday, March 24. The place is Petaluma and the scene? It will be a lively swirl of professional cheesemakers and fans ready to nibble and discuss. Cooking demos, beer and wine pairings, and panels add a few more spices to the flavorful scene. We'd also get on one of those farm tours, pronto, because there's nothing better than going to the savory source. For ticket info, and to find out all the Golden Stage biggies ready to represent (yep, biggies like Laura Chenel's Chevre is on there, as is Cowgirl Creamery), click here, cheese lover.