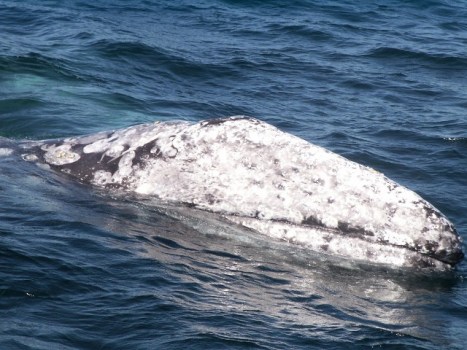 Mendocino Whale Festival
The Mendocino Whale Fests get swimming over the first weekend in March. Two more follow, in Little River and Fort Bragg.
WHALE-SIZED WATCHES: A timepiece strapped to a whale's giant fin has never been spied by boat-bound observers, as far as we know, and yet the titans of the ocean keep to a fairly strict clock, in terms of migratory patterns. That's all about them, of course, and not we humans, but whale-loving land lubbers do benefit from whaledom's notable punctuality. How? Well, if we want to celebrate them -- and we very frequently do -- then knowing when they might be toodling by a particular shoreline is helpful to our own human calendars. (Question: Do whales toodle, exactly? We'll lean yes, given that toodling is a rather charming way of moving along, and whales do charm.) Mendocino County is on top of this clock, and each and every year it throws not one, not two, but three parties for its blowholean visitors. The shindigs are spread out -- Mendocino is first up, over the first weekend of March, while Little River and Fort Bragg land on the following two weekends -- and the human-focused haps are as whale-y and oceanic as one would expect.
LET'S START WITH CHOWDER... because one always starts with chowder, if chowder is a topic at hand. You'll taste creamy bowls concocted by "the best chefs of the coast" at the Saturday, March 1 Mendo gathering, but there's a chowderthon in Fort Bragg as well, on Saturday, March 15. Beer tastings, wine tastings, craft fairs, a run, and live music outings are on the roster as well. And as for the whales? Whale watching walks and sea kayak tours make a showing over the weekend three-pack. You'll get your nature-ocean admiring-foggy breezes on, for sure, in the middle of your chowdering and beering and music-listening. Will you see one of the migratory stars, though? Even if not, you can bet they're out there, keeping to the clock that starting running long before they arrived on this planet.