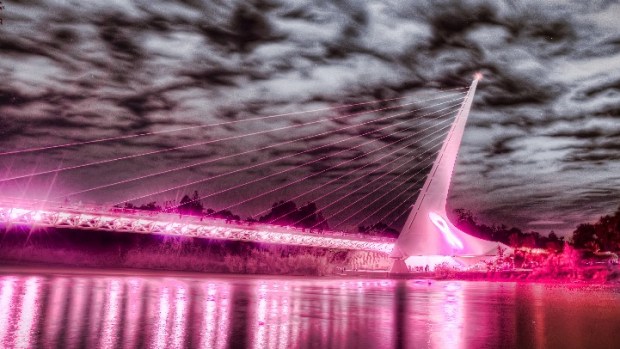 Aaron Patterson
The Pink Sundial Bridge as photographed by Aaron Patterson. NorCal Think Pink will once again light the bridge on Oc. 18, 2012, to raise awareness about breast cancer research.
THINK PINK DAY: People draw attention to breast cancer research and raise money for it in myriad ways throughout the year, from fundraisers to softball games to dances. But perhaps one of the most photographed and biggest ways of raising awareness is the Pink Sundial Bridge in Redding. If you know Sundial Bridge at Turtle Bay, you know it actually isn't pink. But on one evening each year, the bridge is lit a rosy hue, and people are invited to come photograph it. It's quite striking, and draws professional and amateur shutterbugs alike, as well as those who want to support Think Pink Day, which is what the occasion is called. And Think Pink Day is next up on Thursday, Oct. 18.
WHAT HAPPENS: The evening event, which kicks off at 6 p.m., is very much about getting the word out on breast cancer awareness and research in a big way; there are other major events, of course, that raise awareness, but we can't think of a bridge that is being employed in this way. It's notable, it's visual, and over a thousand people turned out for the initial lighting in 2009. There will be a photo contest sponsored by NorCal Think Pink, and, of course, hundreds of the photographers snapping pictures will go onto to post those photos on their various Flickr accounts and Facebook pages. Talk about spreading the message in a positive, highly pink, and instantaneous way. If you want to pack up your camera and head for Redding on Oct. 18, here's more info on the Pink Sundial Bridge.