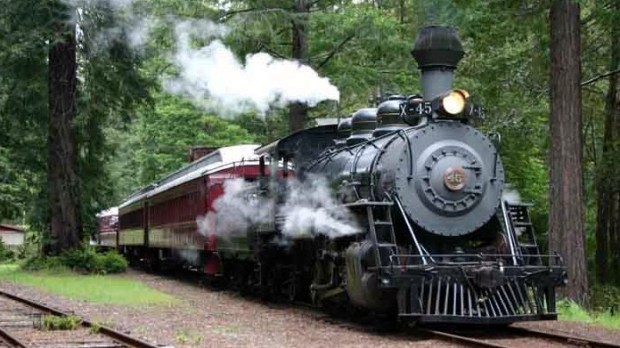 Skunk Train
The Skunk Train's Great Pumpkin Express gets choo-choo-ing on Sunday, Oct. 2.
HONESTLY? The Skunk Train boasts a bit of spooky flavor all year long. We say that with all love and affection for one of the world's greatest railways. You know? Because you'll be on the Skunky, and you'll hear rustling out in the redwoods, and you see a strange bird watching you, and maybe hear an owl hoot, and the track is pretty twisty, and you never know what is around the next bend. Loads of atmosphere, is what we're saying. But come October? That's when the little goblins come out, and the thing is, they're on the train. For reals. They're in cute costume, and they're excited, and grown-ups are excited, and everyone is all-aboard-ing on the Great Pumpkin Express. Start date for 2011 is Sunday, Oct. 2, and since there are only a handful of opportunities to ride, we're talking about it now.
THE DETAILS: The Fort Bragg-based train leaves at 10 a.m. on that Sunday, and a handful of Sundays to follow, for the pumpkin patch. A pumpkin is promised -- oh yeah -- plus lots of entertainment. Will there be Halloween-themed train songs of yore? Not of now, mind you. Of yore. We hope so. We want to learn one. And we want to spend a find autumn day in the redwoods, being charmed by kidlets and the occasional adult in chilling/funny get-ups. Make your plans now, Halloween/Skunk lovers. We assume there's a lot of crossover there. We love both.