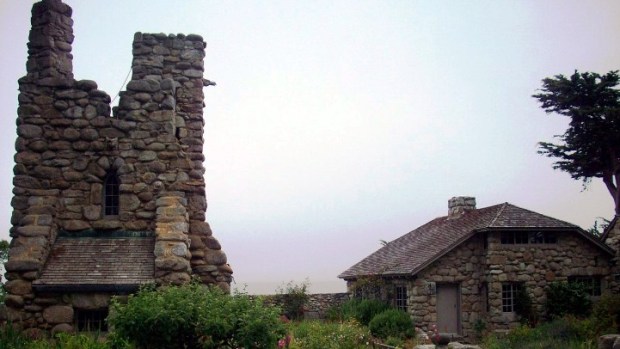 Tor House Foundation
The Tor House in Carmel is open for tours on Fridays and Saturdays.
CARMEL CLUTCH: Of all the incredibly charming structures in California -- and we're talking flat-out fanciful buildings that look as if they might have been air-lifted from another country, another time, or possibly a storybook -- we're pretty sure that Carmel has, within its borders and immediate environs, approximately 81% of them. Too low? Sure, other Golden State spots can boast about their share of witches' houses (we're looking at you, Hollywood) and buildings built inside logs (we're looking at you, Humboldt County) but Carmel just seems to have more. And one of the most famous of the Carmel whimsies is also one of the most storied, and certainly for poet buffs. We speak of Hawk Tower and Tor House, which once belonged to poet Robinson Jeffers and his wife Una. Lucky for us poetry and tower-loving fans, the Carmel landmark is open for tours on Fridays and Saturdays.
WHAT TO EXPECT: House history, of course, and talk of the days when the Jeffers made this windswept crag their home. (We know, we know, "windswept" is trotted out far too much, but the Tor House kind of owns the concept.) A ramble through the garden and a visit to Hawk Tower are also part of the outing. Cost is ten dollars but note that photos are not allowed. You'll have to take the memory home in your heart and mind, which, really, is probably what any poet worth his salt did back in Mr. Jeffers' day. Oh, and that day was nearly a century back; Tor House came into being starting in 1918, meaning it isn't fake antique-looking, like so many buildings are, but actually a verifiable vintage landmark.