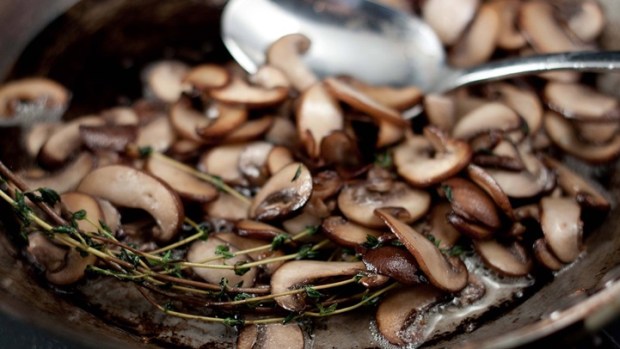 Big Sur Foragers Festival
Mmm, savory delightful mushrooms. Tickets are now on sale for the 2015 Big Sur Foragers Festival.
INVOLVED WITH YOUR EDIBLES: There are food-focused getaways that are all about the attendees relaxing with a glass of wine, making new friends (do people still trade cards or do they move directly to the sharing of @'s and Facebook handles?), and the strolling to a dinner table where an elaborate, trimming-filled feast awaits. There are eat-fun weekends that include a bit of hands-on participation, say, a chopping class or a demo of creating the lightest broth. Then there is the quirky cuisine-cool occasion where people don boots and trudge into the forest to locate part of what might be their next meal. Could this be called hands-, feet-, and entire body-on participation? Definitely. The Big Sur Foragers Festival is one of those rare treats where people do stroll out among the trees and undergrowth in search of the fungi with the flavor (led by experts in foraging, of course). And, of course, there are hallmarks of other types of food festivals, too; it isn't all walking and scanning terra firma. "Big Sur area restaurants will host the culinary expertise of notable chefs preparing unique fare from rustic to elegant, paired with the region's amazing selection of wines and beers." Rustic to elegant, yum and yum.
TICKETS ARE NOW ON SALE: The foragers'll set out -- and set in to dine upon some excellent dishes -- in the middle of January 2015. Jan. 16 through 18, to be specific, so if you've got a fungi fanatic on your holiday gift list, well... how timely are those dates? Very well-scheduled, indeed. Peruse the line-up of events, which include a "Fungus Face-off" at Ventana Inn & Spa, a Grand Celebrity Chef Dinner (at the same spot), and a foraging walk into Pfeiffer State Park and the Big Sur Wilderness (for beginning and intermediate foragers, respectively). To start daydreaming, peek back at the 2014 Fungus Face-Off. Mushroom-infused cannelloni, lemon pepper chowder, wild boar and truffled mushroom rilletes...