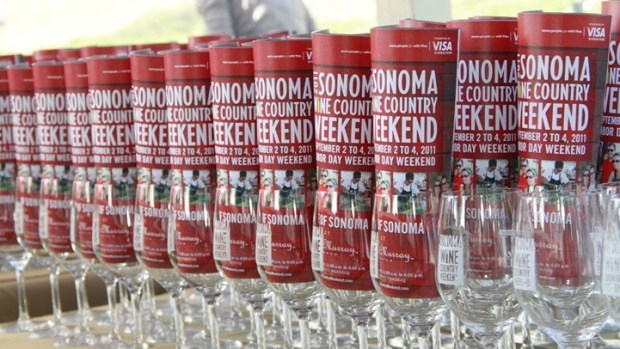 Sonoma Wine Country Weekend
Sonoma Wine Country Weekend fills the glasses over the final weekend in August. Tickets are now on sale.
WHAT'S THE WORD... for the time just before the beginning of something nice? It feels as though a term that is rife with anticipatory excitement and looking forwardness and general cheer for what's to come should exist. It's what happens for kids just before summer vacation and for adults just before a trip and for everyone, one hopes, before a birthday or special night out. And does everyone who has the weekend off from work get a touch of the pre-anticipation on a Thursday? They do. Oenophiles enjoy that particular pre-feeling, too, in the weeks leading up to autumn and harvest. The busy season of grape gathering hasn't quite begun, and all of fall's festive happenings, but the air is changing and wine-making time is clearly nigh. That moment tends to arrive around the last third of August, at many California wineries. They're ramping up for hectic days, but not so much that a bit of partying can't take place. At least that's the case in Sonoma, which is the setting for the Sonoma Wine Country Weekend at the very end of the month. And we do mean very, very end, at least for 2014: The weekend will roll from Friday, Aug. 29 through Sunday, Aug. 31. Sound pretty great, as great things go? Yeah it does, and tickets are now on sale.
ABOUT WINE WEEKEND: As with most major wine gatherings that focus on a bundle of wineries or a single swath of wine country, food is involved, and this event is no different. Taste of Sonoma is one of the centerpieces, and the foodie fun-having'll go down at MacMurray Ranch on Saturday, Aug. 30. Some lunch and dinner parties start the weekend off on that Friday, with the Sonoma Starlight at Francis Ford Coppola Winery getting a special circle around it on the calendar. A wine auction rounds out Sunday, and a whole merry mess of winery barbecues, too. Aren't those two of the loveliest words? And don't they deserve to be matched more often? They work well together. Whatever to-do you join, just be sure to savor that anticipatory feel that late August brings. You can almost feel the churn of harvest just around the corner from there.