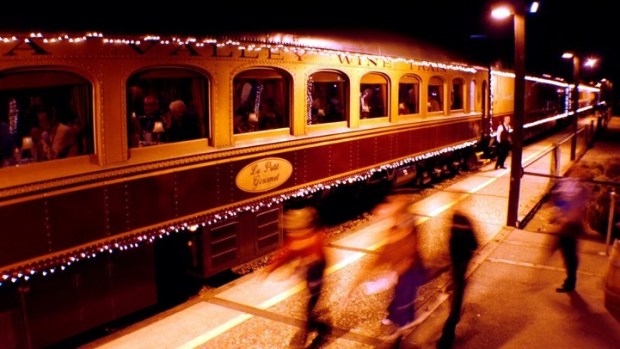 Napa Valley Wine Train
The Napa Valley Wine Train just announced its Halloween 2011 trip.
GROWN-UP GO-OUT: We know. We. Know. It's not even the middle of August, and yet here we are blithely linking to a page that has a jack o' lantern on it. We realize that we're now stoking the ire of those who hate to see decorations go up too early in the stores. Getting that. But here's the thing: Halloween has a few really choice adult-oriented events. They often become sold-out choice adult-oriented events in no time at all. Long before October, in some cases. That's our reasoning here. So when we say that the Napa Valley Wine Train has announced its Halloween outing, we're merely imploring you to act if that is indeed up your alley.
THE DETAILS: You're on an atmospheric train, in costume, on an eerie night, drinking wine. We'd be cheeky and ask "any other questions?" here but we've probably already pushed the envelope on this one, posting a Halloween bash in summertime. So we'll refrain. A ticket on the Gourmet Express is $155, and includes a "multiple course gourmet meal" and two glasses of vino. There's a separately ticketed after party to boot. Now, should you get on this? You should, if this is your thing. You don't even need to think about your ghastly get-up yet. Just act soon.