Lawyer Enters No Contest Plea For Bobby Brown In DUI Case
The ex-husband of the late Whitney Houston was arrested March 26.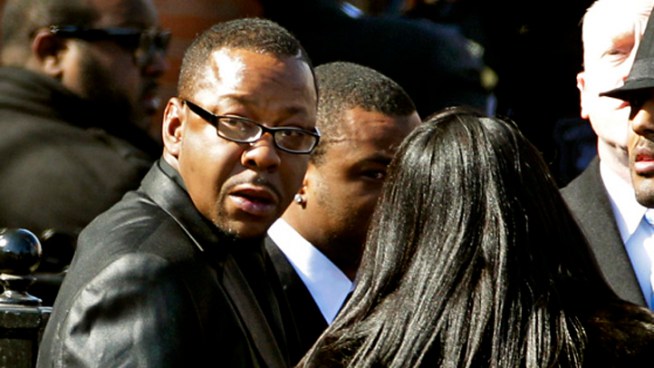 AP
Singer Bobby Brown, left, is seen outside during the funeral of his ex-wife Whitney Houston at New Hope Baptist Church in Newark, N.J., Saturday, Feb. 18, 2012. Houston died last Saturday at the Beverly Hills Hilton in Beverly Hills, Calif., at the age 48. (AP Photo/Mel Evans)
An attorney for Bobby Brown has entered a no contest plea for the singer to one count of drunken driving stemming from an arrest last month.
City attorney's spokesman Frank Mateljan says Brown was sentenced to three years of informal probation and a 90-day alcohol education course.
VIEW THE PHOTOS: That's What Friends Are For: Whitney Houston & Her Famous Friends
Brown's attorney Tiffany Feder entered the plea Wednesday and confirmed the remaining driving under the influence count was dismissed.
She declined further comment on the case.
VIEW THE PHOTOS: Top 5 Artists 'American Idol' Finalists Should Avoid Covering
The former New Edition singer and ex-husband of Whitney Houston was arrested March 26 after he was spotted talking on a cell phone without a hands free kit.
Theplea was first reported by celebrity website TMZ.
Copyright 2012 by Associated Press. All rights reserved.This material may not be published, broadcast, rewritten or redistributed.
VIEW THE PHOTOS: Stars We Lost In 2012
Related Content from AccessHollywood.com:
VIEW THE PHOTOS: Whitney Houston's Final Public Appearance — February 9, 2012
PLAY IT NOW: Eddie Murphy Shares His Memories Of Whitney Houston
PLAY IT NOW: Johnny Gill's Message To The Media - 'Let's Not Let Whitney [Houston's] Dying Be In Vain'
More from Access: [ Bobby Brown Arrests DUIs ]