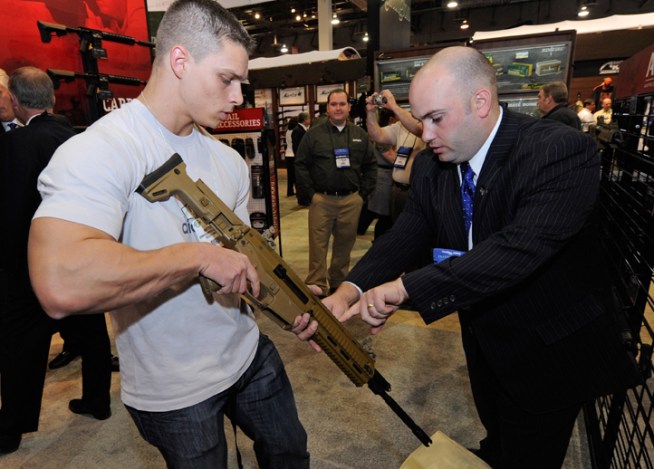 Getty Images
Ed Mazzeo, right, with Bushmaster Firearms, shows Matteo Martini a semi-auotmatic Bushmaster Enhanced Adaptive Combat Rifle (ACR) at the National Shooting Sports Foundation's 34th annual Shooting, Hunting, Outdoor Trade (SHOT) Show in Las Vegas in January, 2012. But after a Bushmaster rifle was used in a mass-shooting at a Connecticut elementary school in December, Cerberus, the private equity fund that owns the rifle's manufacturer said it would put the company up for sale. In the meantime, the California state teachers' retirement fund said it will stop investing with Cerberus.
The state teachers' retirement fund will stop investing in companies that manufacture firearms and high-capacity magazines illegal in California, according to reports.
The California State Teachers' Retirement System invests about $11.7 million of its $155 billion fund in Cerberus Capital Management LP, according to the Associated Press. Cerberus is the company that owns the company that makes the Bushmaster assault weapon used in the Newtown, Conn., massacre.
Teachers and others approved the move. State Treasurer Bill Lockyer made the first move to divest on Wednesday.
Lockyer also wants the retirement fund for public employees, the California Public Employees' Retirement System, to divest from gun makers and ammunition manufacturers.

CalSTRS's investments are often made with political and social implications in mind: the fund divested from South Africa in the 1970s to protest apartheid and does not do business with oil and energy interests in Iran, the AP reported.