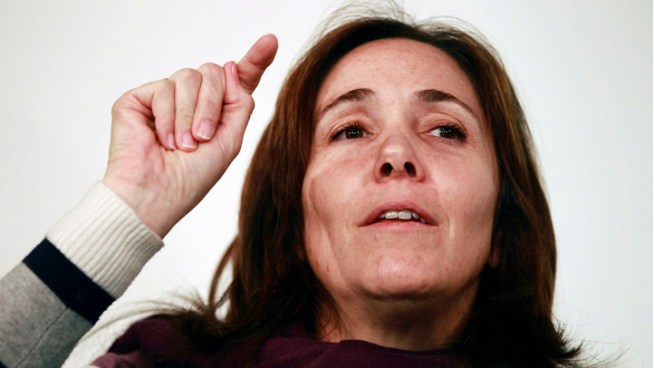 Getty Images
SAN FRANCISCO, CA - MAY 23: Mariela Castro Espin, daughter of Cuban President Raul Castro, speaks on the issues of same-sex marriage, HIV/AIDS prevention and LGBT rights in Cuba during a talk at the San Francisco Lesbian Gay Bisexual Transgender Center May 23, 2012 in San Francisco. The niece of former president Fidel Castro and director of Cuban National Center for Sex Education (CENESEX) was granted a visa to attend the annual Latin American Studies Association conference in San Francisco, drawing support from gay rights groups but also sharp criticisms from politicians and anti-Castro activists. (Photo by Stephen Lam/Getty Images)
The daughter of current Cuban president Raul Castro was cheered when she visited San Francisco on Wednesday, according to reports.
Mariela Castro, 50, is in town to speak at a series of conferences about her experiences in human and LGBT rights, according to the San Francisco Chronicle. Her visit sparked a national outcry, with Republican presidential candidate Mitt Romney criticizing President Barack Obama for allowing Castro into the country.
But no protesters or criticizers turned out for her conference on Wednesday, the newspaper reported. She was on hand to discuss health care given to transgendered patients.
Castro is director of the Cuban National Center for Sex Education in Havana, and has campaigned for same-sex marriage in her country, the newspaper reported. That record, despite Cuba's spotty record on human rights and abuses performed after the revolution, earned her respect.
Speaking through a translator, Castro told the crowd she lobbied the Communist Party in Cuba to end "all forms of discrimination in our society," and in particular bias against gays and transgender people.
"If we don't change our patriarchal and homophobic culture that brings stigma," said Castro, according to reports, "we cannot advance to a new society. That is what we want - the power of emancipation through socialism."