Click Here for Obama's Guest List
An elite dozen appear to have made the presidential cut.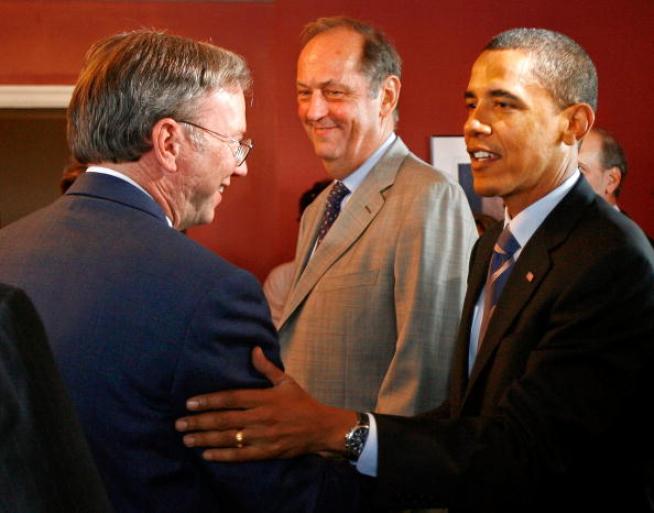 Getty Images
WASHINGTON - JULY 28: Presumed Democratic presidental candidate Sen. Barack Obama (D-IL) (R) greets Google CEO Eric Schmidt (L) and former Sen. Bill Bradley (D-NJ) during a meeting with some of his top economic advisors at the Omni Shoreham hotel July 28, 2008 in Washington, DC. Obama called the two-hour meeting to discuss the current economic situation in the United States, including high gasoline prices and the collapse of the mortgage market. (Photo by Chip Somodevilla/Getty Images)
NBC has what appears to be an official guest list for Thursday night's private dinner with President Barack Obama.
The list comes from a White House official and doesn't include many surprises:
John Doerr, Partner, Kleiner Perkins Caufield & Byers
Carol Bartz, President and CEO, Yahoo!
John Chambers, CEO and Chairman, Cisco Systems
Dick Costolo, CEO, Twitter
Larry Ellison, Co-Founder and CEO, Oracle
Reed Hastings, CEO, NetFlix
John Hennessy, President, Stanford University
Steve Jobs, Chairman and CEO, Apple
Art Levinson, Chairman and former CEO, Genentech
Eric Schmidt, Chairman, Google
Steve Westly, Managing Partner and Founder, The Westly Group
Mark Zuckerberg, Founder, President, and CEO, Facebook
Air Force One is supposed to touch down at SFO at 5:45 p.m. The official word from the White House is that the president "meets with business leaders in technology and innovation" at a private residence at 6:45 p.m. local time and that it is closed to the press.
Speculation as to whose private residence has lots of people talking. From the invite list you can assume it will be on the peninsula because that is where most of those people live. The president stopped by Steve Westly's house last time so he knows where the bathroom is. There is also talk that the president of Stanford was a last minute invite putting his home down on the farm as a possible party spot.
We can assume that Steve Jobs home wouldn't be an option because it being remodeled with a wrecking ball this week and Mark Zuckerberg's home is often compared to a frat house so that is probably off the list. There is also a source that says the party will be held at John Doerr's. His name is first on the list and the only one OUT of alphabetical order. Doerr lives in Woodside. (In the end the Doerr door proved to be the right one. The president and party had a nice dinner at the Doerr's home in Woodside.)
There are helicopter restrictions in place tonight, so we aren't going to be able to tail the motorcade either.
Someone will talk. A caterer preparing an appetizer or a desert will have to put their good fortune on a Facebook post at some point.
Standing by.