Ed Lee Files Opening Brief Against Ross Mirkarimi
Move is step one in officially removing the sheriff from office.
Tuesday, May 1, 2012 | Updated 3:53 PM PDT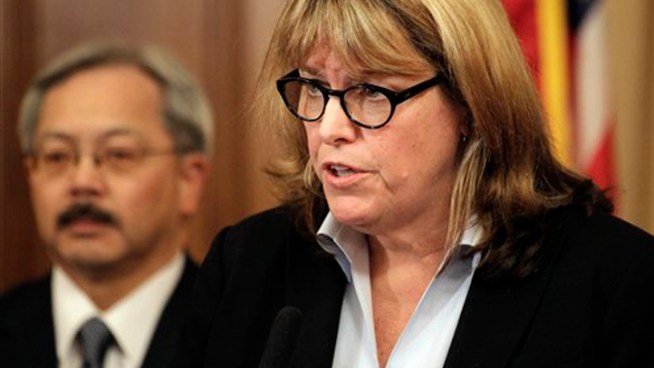 ASSOCIATED PRESS
Newly named Interim San Francisco Sheriff Vicki Hennessy speaks beside Mayor Ed Lee during a news conference Tuesday, March 20, 2012, in San Francisco. Lee announced the appointment after Sheriff Ross Mirkarimi refused to step down over a domestic violence case. A judge on Monday sentenced Mirkarimi to three years of probation and a year of counseling after the sheriff pleaded guilty to misdemeanor false imprisonment. (AP Photo/Ben Margot)
San Francisco's mayor has filed his opening brief with the city's Ethics Commission, as he seeks to have suspended Sheriff Ross Mirkarimi removed from office following Mirkarimi's domestic violence conviction.
In the brief filed this week, Mayor Ed Lee disputed Mirkarimi's claim that he did not commit official misconduct because he was only sheriff-elect and not yet sheriff when he allegedly bruised his wife's arm on New Year's Eve.
Mirkarimi pleaded guilty in March to one count of misdemeanor false imprisonment.
Lee says Mirkarimi attended numerous transition meetings with incumbent Sheriff Michael Hennessey immediately following his election and also took part in at least two confidential disciplinary hearings.