"Liederkranz" Drops San Jose Spelling Bee Hopeful
San Jose student spelling champion trips up on obscure word.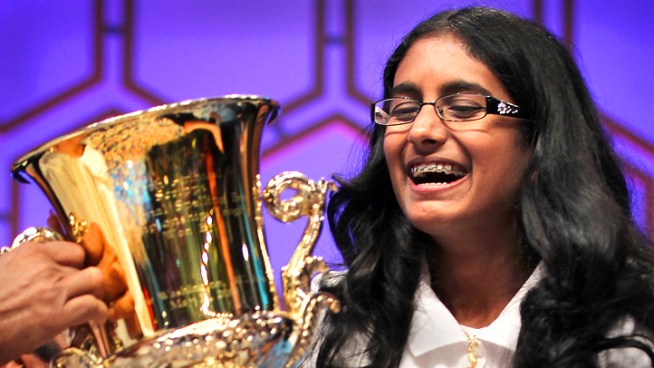 Getty Images
WASHINGTON, DC - MAY 31: Snigdha Nandipati of San Diego, California, holds the trophy after she has won the 2012 Scripps National Spelling Bee competition May 31, 2012 at the Gaylord National Resort and Convention Center in National Harbor, Maryland. Nandipati became the champion after she correctly spelled the word "guetapens" in round 13. (Photo by Alex Wong/Getty Images)
Tertiary, theomachy, and projicent? No concern at all for Siddarth Kulkarni of San Jose, the Bay Area's great hope in the Scripps National Spelling Bee.
But a German-derived word meaning a "garland of songs" or a "soft cheese" with a distinctive odor and flavor? Oh, "liederkranz" -- the Chaboya Middle School eighth-grader will forever hate thee.
It was spelling the word "L-I-E-D-E-R-K-R-A-N-T-Z" that dropped Kulkami from competition in the Bee, held in Oxon Hill, Md. on Thursday, according to the San Jose Mercury News.

Snigdha Nandipati, 14, of San Diego, won the 85th National Spelling Bee championship, and with it $30,000 in cash, a trophy, a $2,500 savings bond, a $5,000 scholarship, $2,600 in reference works from the Encyclopaedia Brittanica and an online language course, the newspaper reported.

As for the rest of us, it's back to being thankful for -- and utterly dependent on -- spellcheck..