Occupy Oakland Finds a New Home
Tents go up around foreclosed home with former owner's blessing.
Tuesday, Nov 22, 2011 | Updated 12:06 PM PDT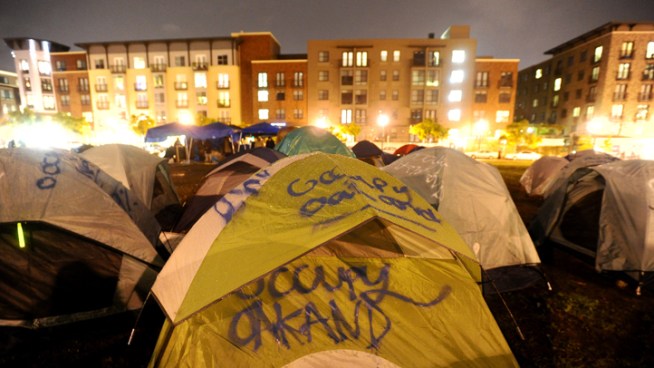 AP
A protester's tent, part of a newly established Occupy Oakland encampment at Telegraph Ave. and 19th St., sits on land adjacent to an upscale housing development in Oakland, Calif., on Saturday, Nov. 19, 2011. Police raided the group's previous camp on Monday. (AP Photo/Noah Berger)
Occupy Oakland demonstrators Monday night gathered at a home that is in foreclosure, according to a protester.
Dozens of protesters had gathered on the lawn of a house near 18th and Linden streets, with the blessing of the former occupant, according to protester Kat Brooks.
The Occupy Oakland movement has been searching for a new home after the group had its tents cleared from Frank Ogawa Plaza and from Snow Park over the last week.
Demonstrators began to gather at around 7 p.m. and about a dozen tents had been erected as of 9:45 p.m., Brooks said.
"They made the economy impossible to survive in...You created this, why are we suffering?" Brooks said.
Brooks said she did not know if the lawn was "technically bank owned property" or if it still legally belongs to the former occupant but she said the former occupant was contacted and it was "with her full blessing this is happening."
The encampment at the foreclosed home is in response to the current economic climate and sends a message to big banks, Brooks said.
Bay City News contributed to this report.