Sharks Make Blockbuster Trade
Sharks Trade For Defensive Help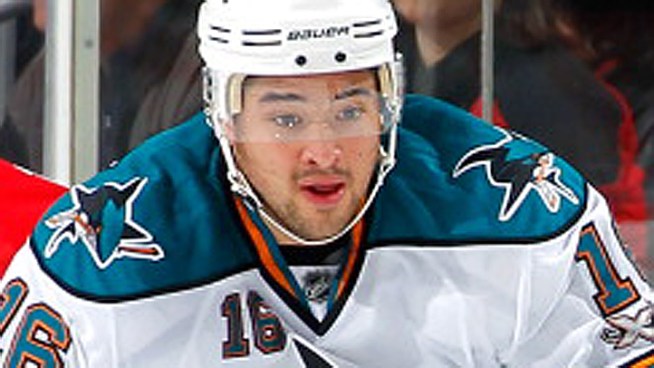 Getty Images
Devin Setoguchi #16 of the San Jose Sharks skates during an NHL hockey game against the New Jersey Devils on February 11, 2011 at the Prudential Center in Newark, New Jersey.
Just one day after signing a $9 million, 3 year extension, Devin Setoguchi was shipped to the Minnesota Wild for top defenseman Brent Burns. In a package deal, Setoguchi along with Charlie Coyle and the Shark's first round pick in this year's NHL Draft went to Minnesota for Burns and the Wild's 2011 second round pick.
The move gives San Jose much needed speed and quickness, along with scoring power from the blue line which was noticeably missing during the Western Finals against the Vancouver Canucks last season. Burns is considered to be a top 5 defenseman which is a hot commodity these days in the NHL considering his age, 26, and scoring capability, 46 points last season.
According to General Manager Doug Wilson, the extension awarded to Setoguchi was not a precursor to him being traded "We didn't negotiate with Devin with the purpose of trading him. I can guarantee you that."
Setoguchi, a fan favorite in the Bay Area, now has to deal with departing a team he has been with his entire NHL career. "It's tough to leave there," Setoguchi said. "I've been there so long and know so many people there. I've grown to love the city and the organization. That will be tough. But you can't expect to be there forever. Now you have to make new friends and start all over."