Sharks to Prevent NHL Strike
A member of the San Jose Sharks is in negotiations.
Tuesday, Jul 3, 2012 | Updated 5:15 PM PDT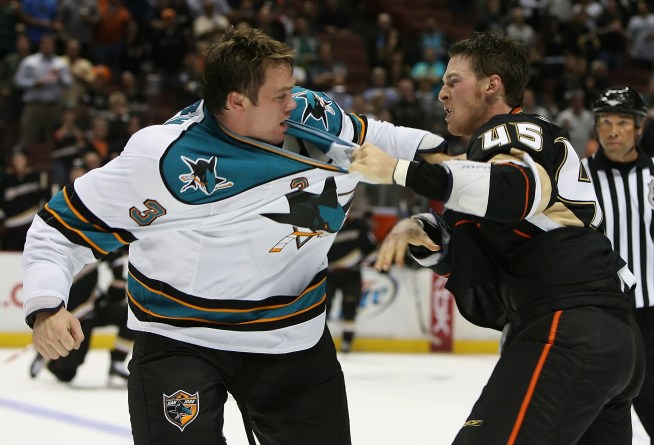 Getty Images
ANAHEIM, CA - SEPTEMBER 24: Douglas Murray #3 of the San Jose Sharks and Brennan Evans #45 of the Anaheim Ducks fight during the first period of the preseason NHL game at Honda Center September 24, 2008 in Anaheim, California. Murray is the team's representative on a labor dispute.
A member of the San Jose Sharks will help rescue the National Hockey League from a labor impasse -- or will stand by and watch helplessly as a disagreement over money between owners and players sinks the league into a lockout, again.
Defenseman Douglas Murray is the team's only representative on the 30-player executive board that will negotiate a new collective bargaining agreement, the San Jose Mercury News reported.
The newspaper reported dissension between players and owners. Players gave up "too much" in salary during negotiations which followed the lockout of 2004-2005.
Owners think that the free agent age of 27 -- or seven years service in the league -- is too low, and want players locked into team rosters until the age of 31.
Players' salaries are locked in at 57 percent of total league income -- a figure owners also want reduced, the newspaper reported.
NHL Commissioner Gary Bettman said that there's no chance of a work stoppage or strike.