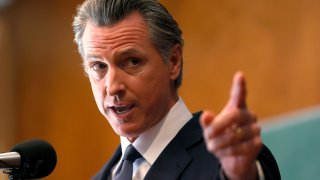 Gov. Gavin Newsom issued a statement lauding the passage Saturday of the $1.2 trillion Infrastructure Investment and Jobs Act bill package, saying the bill will help create quality jobs for Californians and support the modernization of state infrastructure.
The bipartisan infrastructure legislation is a significant element of President Biden's economic agenda and its passage is a win for the president. The legislation includes funding for roads, bridges, broadband internet access and other projects.
"President Biden understands the need to build a climate-resilient future, and the infrastructure package passed by Congress builds on California's unprecedented investments to maintain and modernize the state," the governor said in a statement.
"This historic infrastructure package stands to accelerate investments in our clean transportation infrastructure, help mitigate some of the worst impacts of climate change and accelerate new projects that will create thousands of jobs," the governor said.
According to the governor's office, California expects to receive:
$25.3 billion for federal-aid highway apportioned programs and $4.2 billion for bridge replacement and repairs over five years
$9.45 billion over five years to improve public transportation options across the state
$384 million over five years to support the expansion of an EV charging network in the state and the opportunity to apply for the $2.5 billion in grant funding dedicated to EV charging
A minimum of $100 million to help provide broadband coverage across the state
$84 million over five years to protect against wildfires and $40 million to protect against cyberattacks
$3.5 billion over five years to improve water infrastructure across the state and ensure clean, safe drinking water for California communities
$1.5 billion for infrastructure development for airports over five years
Copyright BAYCN - Bay City News