Fire crews aggressively responded to a fast-moving vegetation fire burning on the Loma Prieta ridge in the Santa Cruz Mountains, which prompted evacuations, destroyed one structure and charred at least 1,000 acres by late Monday night, fire officials said.
At least 300 structures are threatened by the Loma Fire, which is in proximity to television towers. Evacuations are in effect along Summit, Mount Madonna and Croy Ridge roads. About 300 people have evacuated the area, Cal Fire said.
Resident Fred Eggers lives on Summit Road.
"My basic plan is to protect my property and my family," he said. "I will be the last one to leave if we have to." Loma Fire Timelapse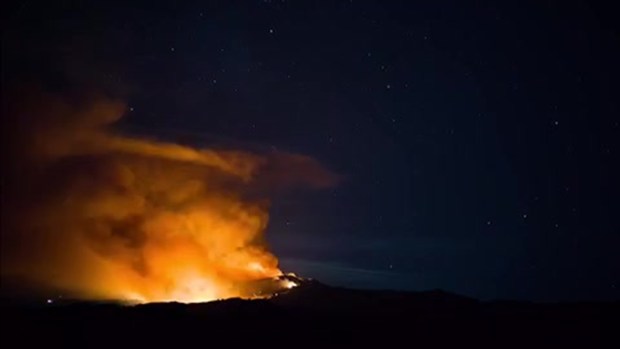 Santa Clara County residents described seeing a plume of smoke resembling a volcano from their homes and backyards. Footage from the NBC Bay Area chopper, which was the first to arrive at the scene, showed fire crews and a DC-10 tanker using retardant to control the fire.
According to CalFire, 200 firefighters from multiple agencies were on scene, and the fire was 5 percent contained by late Monday night.
The Red Cross set up three evacuation centers Monday evening for those who needed food and shelter: Soquel High School, 401 Old San Jose Road in Soquel; the Jewish Community Center of Silicon Valley, 14855 Oka Road, Los Gatos; the Morgan Hill Presbyterian Church, 16970 DeWitt Ave, Morgan Hill.
The blaze is in the area of Loma Prieta and Loma Chiquita roads, west of Morgan Hill, and is spreading at a rapid rate in the southeast direction toward open space, Cal Fire said.
"We're in a very remote area of Santa Cruz County-Santa Clara County, so travel distances are long," said Jim Crawford of Cal Fire. "The terrain is very steep. The vegetation is very dry."
The fire can be seen from as far away as Monterey, according to residents in the area. RAW VIDEO: Fire in Santa Cruz Mountains Prompts Evacuations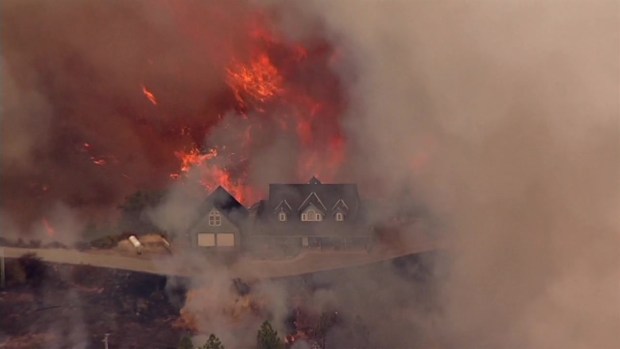 Ben Brown, who was tweeting photos of the fire from his living room in the north end of Scotts Valley, said he watched the fire grow really rapidly in the first half-hour. "It's not at a threatening distance. I can only see smoke but I'm keeping a close eye on it."
Jacquie Heffner, who lives in the San Jose foothills, said she could see a lot of smoke from Santa Teresa Boulevard and Dunn Avenue. "We're one hill away as the crow flies. The end of my street goes into the foothills. I can smell the fire a little bit."
Dozens of South Bay residents tweeted photos of the fire from their evening commute home. A time-lapse video of the fire showed white smoke from the fire quickly turning dark black, and then a fiery red around 5:30 p.m.
Monday, a Spare the Air day in the Bay Area, was an exceptionally hot day in the South Bay, with temperatures rising to 100 degrees in some parts.
Crawford said fire crews are doing their best to save any threatened property, but public safety comes first.
"Our top priority is rescue and evacuation of people," he said. "And unfortunately, if people don't heed our evacuation requests, we are in a place where we have to provide rescue at some point to those people."
Fire officials do not know the cause of the fire. They expect the blaze to burn for a few days.
For the latest updates on the fire, visit the Cal Fire website or a dedicated groups.io page.
NBC Bay Area's Laura Malpert and Gonzalo Rojas contributed to this report.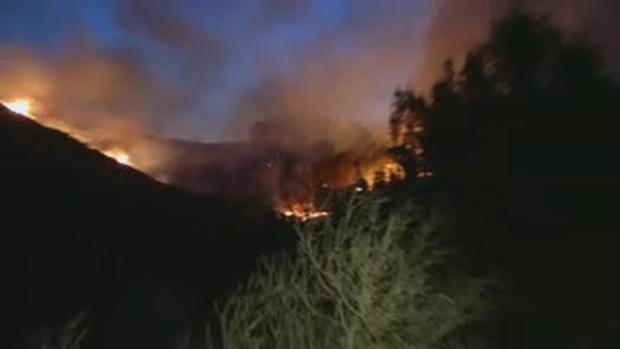 Photos from Fire in Santa Cruz Mountains
LIVE on #Periscope: Different view of #LomaPrieta Fire. Smoke seen for miles... https://t.co/RNJBweubVf

— scott budman (@scottbudman) September 26, 2016
Cal Fire crews continue to battle 300-acre fire burning in Santa Cruz Mountains. 300 structures threatened. https://t.co/mcILVKI8FCpic.twitter.com/iRGu6Pw56c

— NBC Bay Area (@nbcbayarea) September 26, 2016
Photo of #LomaFire in #SantaCruz mountains from a viewer who flew into @FlySJChttps://t.co/kYwPnZSfR9pic.twitter.com/5nO5IJktpA

— NBC Bay Area (@nbcbayarea) September 26, 2016
#ICYMI here's Loma Prieta fire weather & latest facts as hot 90° continues to fan the flames: More LIVE @nbcbayarea#LomaFirepic.twitter.com/5BzYtRhM8d

— Jeff Ranieri (@JeffRanieri) September 26, 2016
Big fire rigs look small as they head into #SantaCruz Mts Fire which continues to grow. pic.twitter.com/vj5GFU36oC

— RobertHanda (@RHandaNBC) September 26, 2016
#UPDATE Loma Prieta Fire. 200 acres burned. 300 structures threatened.

— Janelle Wang (@janellewang) September 26, 2016
Ominous view from Morgan Hill's Holiday Lakes of fire burning in Santa Cruz Mtns. 200 acres and growing off Loma Prieta Rd. pic.twitter.com/fHAeB0XyR1

— Laura Garcia Cannon (@LauraGarciaCann) September 26, 2016
@nbcbayarea loma prieta fire from almaden valley pic.twitter.com/7qa9hFpuva

— Alex Marquez (@zanderkasper) September 26, 2016
#Breaking Brush fire burning on top of #LomaPrieta in Santa Cruz Mountains. #Calfire sending air and ground crews. pic.twitter.com/YeBhuKdFHW

— Janelle Wang (@janellewang) September 26, 2016
#Fire in #SantaCruz Mts easily visible from Highway 17 pic.twitter.com/4X0Zznwhza

— RobertHanda (@RHandaNBC) September 26, 2016
#CalFire says it is responding to vegetation.#fire in Loma Prieta in Santa Cruz Mts pic.twitter.com/YKnFmMteQ6

— RobertHanda (@RHandaNBC) September 26, 2016
RIGHT NOW: #CalFire sending ground & air resources to brush fire at Loma Prieta & Loma Chiquita Road in the Santa Cruz Mountains.

— Janelle Wang (@janellewang) September 26, 2016
Fire west of Valley Christian (towards Santa Cruz Mountains). #NeedRain@nbcbayareapic.twitter.com/c1nlw1Csk2

— Ross Morrill (@pastorsmorrill) September 26, 2016
I'm at Santa clara golf and tennis club looking towards Santa Cruz mountains.. What's on fire? @nbcbayareapic.twitter.com/c17QppLGCD

— Sean Arnone (@Arnone66) September 26, 2016
@NBCBayArea what the story on this fire near Uvas Canyon? pic.twitter.com/HiYEmCjSQm

— Alvin McManus (@alvinmcmanus) September 26, 2016
#wildfire in santa cruz mountains now. Photo from #sjsupic.twitter.com/pP3yFIKBhg

— SJSU FireWeatherLab (@FireWeatherLab) September 26, 2016
Firefighters are battling a 30 acre wildfire off Loma Prieta Rd and Loma Chiquita Rd, 10 miles NW of Morgan Hill (Santa Clara Co). #LomaFirepic.twitter.com/MDIiV8JVcN

— CAL FIRE (@CAL_FIRE) September 26, 2016