Two daughters are blaming a single tree – and its lack of care – for their father's death in a California wildfire, and they want PG&E and a tree-trimming service to be held responsible.
The suit – filed in San Francisco Superior Court Monday on behalf of Stephanie Mathes, of Windsor, and Karen Goldsmith, of Sacramento – is the first wrongful death lawsuit stemming from the Sept. 9 Butte Fire in Amador and Calaveras counties, according to the lawyers who filed it.
The wildfire ate up more than 70,000 acres of land and destroyed more than 800 homes and buildings. The blaze also caused two deaths, including that Owen Goldsmith, an 82-year-old retired Air Force staff sergeant who taught music at Livermore and Clayton Valley high schools in the 1960s and 1970s. He was also a "prolific" composer, his daughters said.
Goldsmith was found dead in his home, and it appears he did not heed evacuation orders.
But lead attorney, Amanda Riddle, of the Corey, Luzaich, de Ghetaldi, Nastari and Riddle law firm in Millbrae, said even if that's so, "PG&E bears the ultimate responsibility. They put him in a situation where he felt that he had no escape."
Mathes told NBC Bay Area that she's suing because "no one should have to go through what I imagine he went through." She said visiting the spot where her dad died was "devastating. It was so difficult to see that he died in his refuge."
PG&E spokesman Denny Boyles did not have a specific response Wednesday to the the wrongful death suit. But in a statement, he reiterated what the utility's vice president of emergency preparedness, Barry Anderson, said after the fire: That PG&E is "cooperating fully with Cal Fire in its investigation on the source of the ignition for the Butte Fire."
Boyles added that the utility's "thoughts and prayers are with the victims and the individuals who lost their homes in this fire," and that the agency would continue to "improve fire safety and fire response during this historic drought."
The 13-page suit blames a tree, and PG&E's "safety lapses," which the lawyers later refer to as an "abomination" that resulted in the wildfire.
"In this case, PG&E failed to properly inspect its electrical lines and maintain the surrounding vegetation," the suit states. "PG&E has and continues to put its own profits before the safety of the California residents whom it serves."
Riddle said the tree – located on PG&E's easement – was drooping and didn't have enough support, which is why it fell and hit the 12,000-volt PG&E power line on Butte Mountain Road. The felled tree caused sparks that resulted in the Butte Fire, the suit states.
The actual property on which the tree was located was privately owned. But PG&E has a statutory obligation to maintain property in its jurisdiction by trimming trees and other vegetation to protect its power lines, Riddle said.
California Gov. Jerry Brown Requests Presidential Major Disaster Declarations for Valley, Butte Fire Recovery Efforts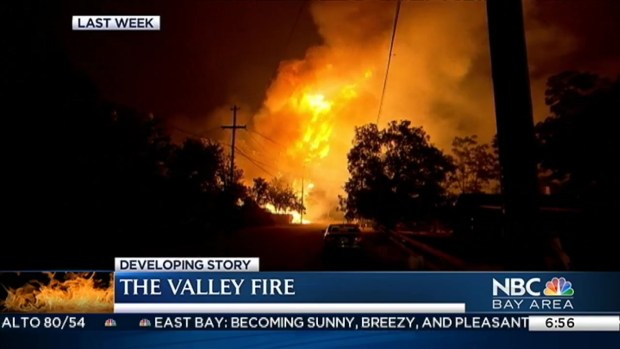 The suit also notes that the fire ignited Sept. 9 – the five-year anniversary of a deadly San Bruno explosion caused by faulty PG&E gas lines, for which the utility was fined $1.6 billion. Vegetation management company ACRT Trees and Trees Inc. were also sued in the wrongful death suit. Neither company responded to requests for comment.
Cal Fire has not yet publicly said what caused the Butte Fire. But Elizaveta Malashenko, head of the safety and enforcement division of the California Public Utilities Commission, said Cal Fire has narrowed the Butte Fire investigation to a single tree, according to the San Francisco Chronicle, a point that is referenced in the suit.
The suit also includes a list of several cases in which PG&E was involved that resulted in injury or death. In many of those cases, the utility paid hefty fines.
For example, the suit notes that two years ago, PG&E and its contractors agreed to pay a combined $50.5 million to settle claims over the Power Fire of 2004 that burned 13,000 acres of Eldorado National Forest and the 2008 Whiskey Fire that burned more than 5,000 acres of Mendocino National Forest.
And in 1999, the suit notes, a rotten pine, which the government said PG&E should have removed, fell on a power line and sparked the Pendola Fire mainly in the Tahoe and Plumas national forests. PG&E paid a $14.75 million settlement to the U.S. Forest Service in 2009. The same year, the utility also reached a $22.7 million settlement with the CPUC after regulators found the utility had not properly spent money earmarked for tree trimming and removal.
Riddle said that every one of the 180 cases filed against PG&E stemming from the deadly 2010 San Bruno blast settled out of court, including seven wrongful death suits.