Apple's Worldwide Developers Conference kicks off Monday, June 2 from San Francisco's Moscone Center.
NBC Bay Area business and tech reporter Scott Budman will be filing updates from the much-anticipated keynote address scheduled for 10 a.m. He will also be live-tweeting from the event.
10:40 a.m. OK. This is kind of cool. Apple's new operating system lets you make and answer called from your Mac. If your phone rings, you'll get caller ID on your Mac, and then you can answer it with your speaker phone. Kind of like the texting feature .. But with your phone calls.
(Does anybody still make phone calls?...)
Putting the "phone call anywhere" feature on display, an Apple executive just called Dr. Dre from his Mac. Crowd goes wild.

10:30 a.m. Apple still talking about changes to its new operating system. Among the things exciting Apple users: a bunch of cloud storage for your personal use. This is Apple admitting that the cloud is actually something people and businesses are looking for. Will it be a shot across the bow to cloud companies like Dropbox and Box?

10:13 a.m. Tim Cook is on stage. The Apple CEO began by talking about the Mac, and the newest operating system. This has the developers happy, even though it's gadgets that largely boost Apple's bottom line. Cook says the new "Mavericks" OS has been adopted by a ton of Apple users.
Now, post-Mavericks, a new name: OSX "Yosemite."

Apple CEO Tim Cook kicks off 25th year of #WWDC. pic.twitter.com/2GvAf7HF4T

— scott budman (@scottbudman) June 2, 2014
9:54 a.m. The annual "who's here" spotting has begun here at the Apple event.
It's like a Laker game, but for us geeks. Jimmy Iovine - record producer and and Beats Music co-developer of "Beats by Dre" fame - has been spotted in the crowd - but no Dre. Maybe he's backstage?
Lots of Apple execs and board members of course. Also Aaron Levie, founder and CEO of Box (@Levie on Twitter). His company has filed for an IPO, so he's in a quiet period, but who can resist an Apple event?
8:57 a.m. Everybody now seated and waiting. Apple source says the keynote could go two hours.
Lots to cover - "car play" hardware and software inside cars, and likely developing healthcare & wearable devices as well. I imagine we'll also hear a lot about music, with the recent Beats buy.
8:54 a.m. Judging by the masses running (yes, running) to take their seats in the giant Moscone center hall, most developers here in San Francisco are happy that Apple is cranking out new devices. They're eager to develop software and apps for the phones, pads, etc, and even make some money in the process.
But not everyone is happy with Apple's rapid manufacturing pace, or with the way the company deals with its money. About ten spirited protestors banged on drums and carried a sign urging Apple to reconsider the way it pays taxes. "Apple, Develop a Conscience, Pay Your Taxes and Be a Good Neighbor."
The Cupertino tech giant has come under criticism recently for "sheltering" money overseas, and not paying enough taxes to Uncle Sam. The protestors are not terribly organized, but they're passionate about what they call the $5 billion "missing" dollars that Apple is allegedly not payingand keekping in a Nevada subsidiary.
The protest was led by the SEIU-USWW and Anti-Eviction Mapping Project, Our Mission No Eviction and Jobs with Justice.

Some of those protesters were spotted using iPhones….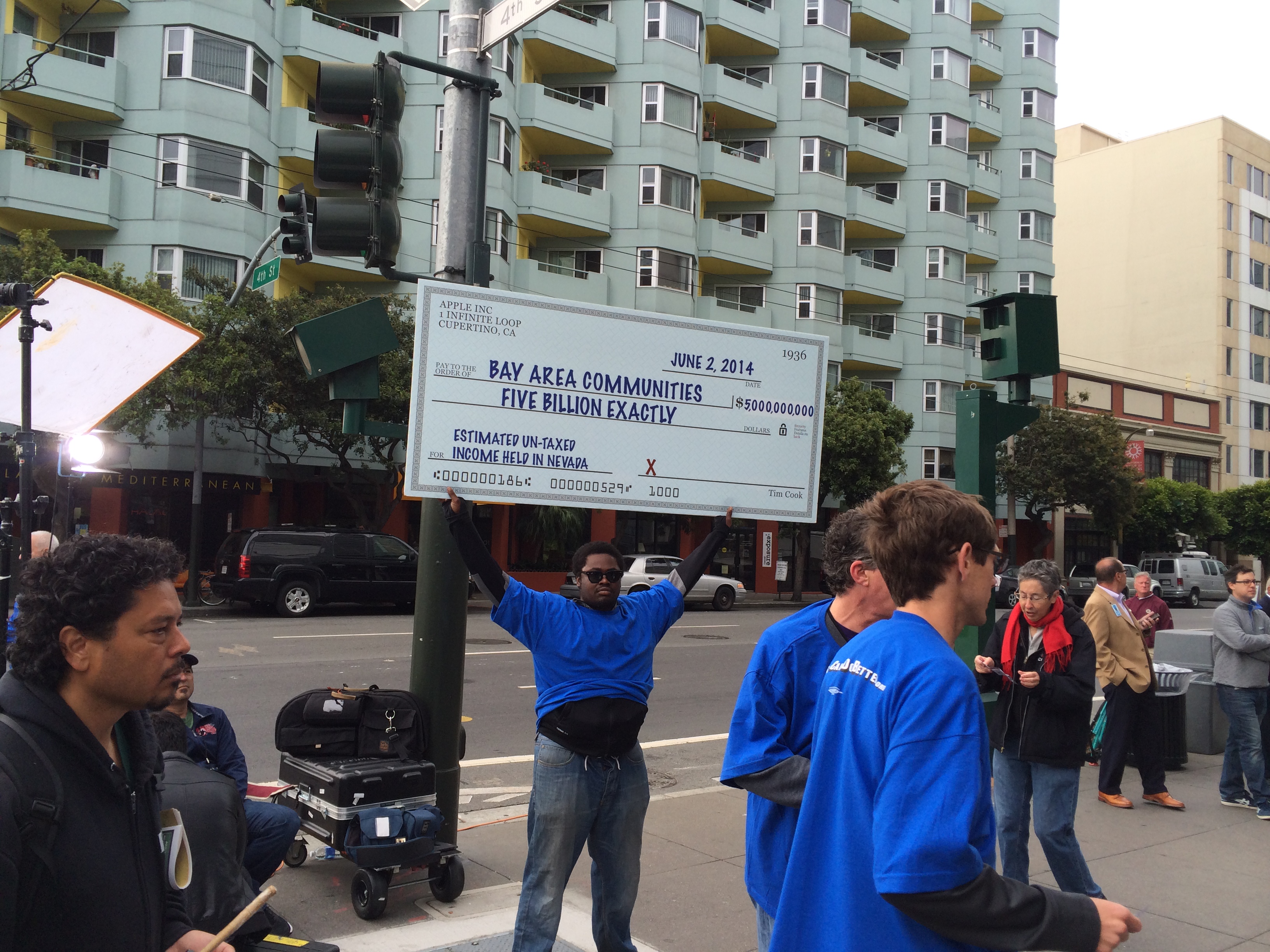 8 a.m. Developers line up around the San Francisco Moscone Center.
Check back here starting Monday at 10 a.m. for updates.
LIVE STREAM: Apple will be live-streaming the event on their website here. Note: Live streaming video requires Safari 4 or later on OS X v10.6 or later; Safari on iOS 4.2 or later.
Published at 5:29 AM PDT on Jun 2, 2014 | Updated at 11:06 AM PDT on Jun 2, 2014