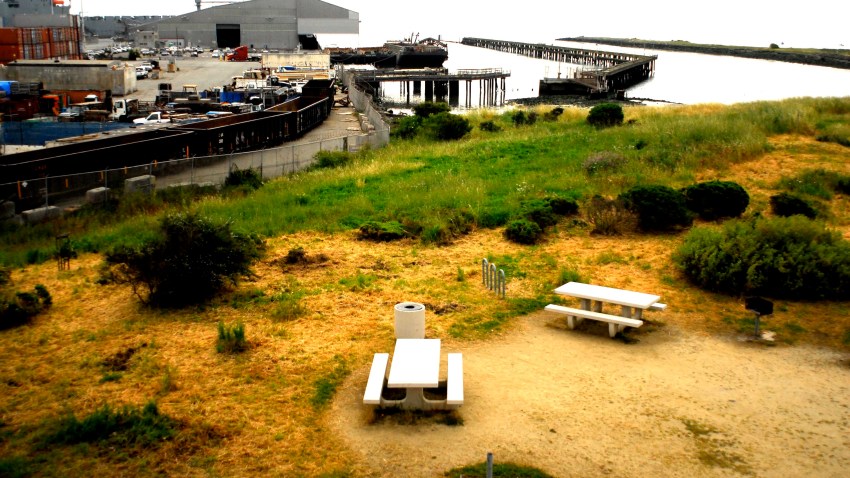 San Francisco's southeast neighborhoods are a living legacy of the City's industrial past. Aging power plants, shipyards and industrial plants frame a ragged corner of the bay. The Hunters Point Shipyard is on the federal list of Superfund sites. Residents of the area's dilapidated public housing have faced decades of sharing their air and earth with a raunchy industrial core.
So it's a fitting twist that in the midst of it all, is one of the Bay Area's greenest buildings.
This weekend, Literacy for Environmental Justice celebrated the opening of the new Heron's Point Eco Center – an educational building so green, it boasts complete independence from "the grid."
From its 24 rooftop solar panels, to its rainwater collection tanks, the building shuns PG&E for electricity, and the City for its water.
"We have zero PG&E bills here because we have no infrastructure to PG&E," said the center's Director Laurie Schoeman. "Absolutely zero."
The center's cutting edge design employs reclaimed wood to beautify its front entrance. A large sculpture of a heron by a local artist looks down on visitors from above the front door.
The center captures rainwater from its roof, which is then funneled into three, massive 4,800 gallon tanks. The tanks supply water to toilets, a living roof of native plants, and other irrigation.
Inside, a trio of buckets pour water into a small replica of a wetlands, to demonstrate how plants naturally purify water for reuse.
"We are creating essentially our water here by capturing it on site and running it through the various processes water will run through in a typical building," Schoeman said.
Perhaps the most striking thing about the center, is the view. Windows face the now defunct PG&E power plant, which is undergoing dismantling. Another window looks toward the Hunter's Point Naval Shipyard, which could soon become the largest redevelopment project in the City's history. The center also has an unimpeded view of the dilapidated Hunters View public housing complex, which is slowly being torn down and replaced.
"We're here in a community that has been forgotten," said Literacy for Environmental Justice Director Malik Looper. "There's a legacy of dumping in poor communities so it seems fitting that this community have a world class facility as well."
The Eco Center sits in the center of an area in transition. Joggers and walkers pass by on a dirt trail through Heron's Head Park, which winds through industrial grounds on the way to the bay.
The center's founders hope the Eco Center will set an example for the rest of the area. And maybe some day, won't stand out at all.