A 23-year-old web developer accused of trying to join a terrorist organization has been in solitary confinement for two months in Oakland because he was caught with a notebook containing writings and doodles that "appeared to support terrorism," court documents state.
But Adam Shafi's lawyers are vigorously arguing in federal court that the notebook writings of their Fremont, California client were not "contraband" or terrorist-related as a jail lieutenant claimed.
Rather, the defense attorneys contend, the notes contained private information about the case that he was sending to his attorneys, which should have not been confiscated in the first place, and certainly not turned over to the FBI, which is what happened. Shafi has been in custody since July 2015 and in solitary since Dec. 17, 2015.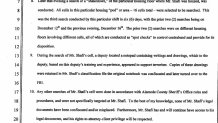 The matter is of extreme importance not only because the material in the notebook contains what Shafi's attorneys, Joshua Dratel of New York and Erik Levin of Oakland, say is protected under attorney-client privilege.
But the defense also argues the notebook in question landed Shafi in isolation, an "onerous and psychologically debilitating" situation where he kept alone in his jail cell for 24 hours a day, except for five hours of exercise a week. But even when he exercises, his lawyers argue, he is still kept apart from everyone else.
"They're punishing him for no reason," Dratel said on Friday. "He's suffering in solitary and it takes a toll. We're very concerned." In all his years as a lawyer, Dratel said he's never had a client sent to isolation for such a matter. His legal argument also brings up President Barack Obama's recent opinion in the Washington Post that asked the country to rethink solitary confinement as it is seen by many as cruel and unusual punishment.
What was written in the notebook was never described in detail in court documents. But Dratel said that some of the writings were notes pertaining to his legal case, as well as "doodles" that he didn't describe.
Dratel and Levin are asking that Shafi be released on $1 million bond at a court hearing scheduled for Feb. 25, despite a judge's denial of such a request on Dec. 22. The judge feared Shafi would be a flight risk.
Dratel would only say that he and Levin are arguing for Shafi's full release on bond, and would not state whether they would be satisfied if the young man was returned to the general jail population at the Glenn E. Dyer Jail in Oakland, which has space for federal inmates. "One step at a time," he said.
Alameda County counsel Donna Ziegler and David Nefouse countered in their court arguments that Shafi is still allowed visitors, access to jail services and is certainly allowed to prepare for his legal case. They wrote they feel that Shafi would not be better off in "mainline custody" with other inmates aware of the terrorist-linked allegations against him. And, the county counsel argued, there has been no court ruling that the materials are "privileged" as contended by defense counsel. Asst. U.S. Attorney Jeffrey Shih is also opposed Shafi's motion to reconsider his detention order, citing he is a flight risk, in his court papers. Shih added that even "assuming that the seized materials are privileged, there is no legal basis to release the defendant." A spokesman for the department had no further comment on the issue when asked on Friday.
Independent legal analyst Steven Clark said that ultimately, the jail is tasked with deciding what the best safety options are for inmates. But he said it's very "troubling" that jail guards took the notebook and turned it over to the FBI without any judicial oversight. Gang members have had their writings in jail seized, Clark said, but usually only with proper search warrants, which didn't occur in this case. "The attorney-client privilege is sacred," said Clark, a former prosecutor and now defense attorney in San Jose, California.
Shafi is one of 75 inmates at Glenn E. Dyer Jail in Oakland in what is called "administrative isolation," though his lawyers refer to the practice of being locked up alone as "solitary confinement," a point of semantic debate between the two sides. Solitary is usually a punishment meted out to inmates who have exhibited violent behavior and pose a threat to themselves or others.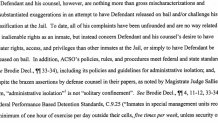 The isolation began after Alameda County Sheriff's Lt. Dan Brodie said deputies put Shafi alone in a cell for his own "safety" on Dec. 17, after guard found the notebook, and were worried that other inmates might want to harm him, court documents state.
Shafi was indicted in December by a federal grand jury with one count of attempting to provide material support to a designated foreign terrorist organization, specifically al-Nusrah Front, or ANF. Until six months ago, Shafi had been mixed with the general jail population. Shafi, a 2011 Mission San Jose High graduate, has entered a not guilty plea.
Shafi's father, in court papers, had indeed worried that his son might have traveled to Syria, Iraq, Gaza or elsewhere to "defend Muslims" and was disturbed because his son was "always grieving about what is happening to Muslims." His father also worried that his son may have been following extreme imams online, and that some of his "high school friends were of the same mindset," according to the FBI affidavit.
But his father had also been trying to get help for his son, who he characterized as an idealistic young man who wanted to help brethren in distress.