A federal judge appeared skeptical on Thursday over the legal battle Airbnb is attempting to wage against its hometown of San Francisco. Attorneys for both sides faced off in federal court as part of a lawsuit Airbnb filed in June. The suit aims to block a new San Francisco ordinance that would subject home-sharing websites, like Airbnb, to criminal penalties and hefty fines whenever they allow their users to book rental listings that are not registered with the city.
"The city has attempted to…evade the first amendment," said attorney Jonathan Blavin, who argued on behalf of Airbnb during Thursday's hearing.
Currently, San Francisco can only dole out criminal and financial penalties to individual hosts, not the actual online platforms. The city's new law, however, would subject home-sharing companies to the same penalties that individual hosts have faced since the city began regulating the industry in February 2015: criminal charges and daily fines of up to $1,000 for each unregistered listing. The new law, which the San Francisco Board of Supervisors approved in June, was supposed to take effect in July. The city, however, is continuing to put the ordinance on hold, pending the results of the lawsuit.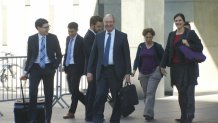 During Thursday's hearing, Blavin argued that the new ordinance infringes on Airbnb's constitutional rights of free commercial speech since it attempts to restrict home-sharing companies from posting certain types of content on its website.
"The practical effect of this law is it will require companies to screen and remove listings," Blavin said.
Lawyers with the San Francisco City Attorney's Office disagreed.
"The ordinance doesn't say anything about what they can or cannot publish," said Deputy City Attorney Sara Eisenberg. "[Airbnb] can simply say, 'if you want to partake in our booking services, you need to send us your registration number.'"
Deputy City Attorney James Emery later tried to bolster that argument.
"Airbnb can confirm – independent from the content of the ad – whether a listing is legally registered with the city," Emery said.
U.S. District Court Judge James Donato has yet to issue a decision in this case, however, during the hearing he admitted he was "struggling" to understand how San Francisco's short-term rental law would, in fact, violate Airbnb's constitutional rights.
"How is that a suppression of an idea of your first amendment rights?" he asked Blavin. "[San Francisco] is not outsourcing enforcement to Airbnb, they're just trying to find out information from the single entity that knows -- that's you."
Since February 2015, anyone in San Francisco wanting to rent out their home, for less than 30 days, has been required to apply for a $50 permit from the Office of Short Term Rentals. Hosts must renew their registration every two years. While violators can face criminal or financial penalties, an NBC Bay Area Investigation found hosts have largely ignored the registration process, with few actually facing any consequences. According to figures obtained from Airbnb and the Office of Short Term Rentals, at least 82 percent of hosts fail to register with the city.
HOSTING REQUIREMENTS IN SAN FRANCISCO INCLUDE:
• Register as a business with the city of San Francisco
• Sign up for an in person appointment with the Office of Short Term Rentals (1-2 day wait)
• You will need a Business Registration Certificate, valid ID, proof of liability insurance
• Fill out a registration application ($50 fee)
• Average 3-week wait to have your application approved
During Thursday's hearing, the judge was critical of the city's inability to offer a detailed plan for how it intends to allow home-sharing companies to easily and quickly verify whether a listing is registered with the city.
"You're calling for criminal penalties and not providing the tools for companies to easily check registration numbers to evade those charges," said Donato. "You all hold the information on who is legally registered and not, and so how are you going to make that totally transparent to those companies so that they don't get prosecuted?"
Emery replied by saying the city intends to work with companies to create an enforcement program "that works."
"That's not very comforting," said Donato, who smiled as the courtroom erupted in laughter.
The roughly hour-long hearing ended with Donato explaining that he plans to issue a ruling sometime soon.
______________________________________
Need to contact our Investigative Unit?
• You can remain anonymous
• 1-888-996-TIPS
______________________________________
Watch the entire series in this NBC Bay Area investigation: