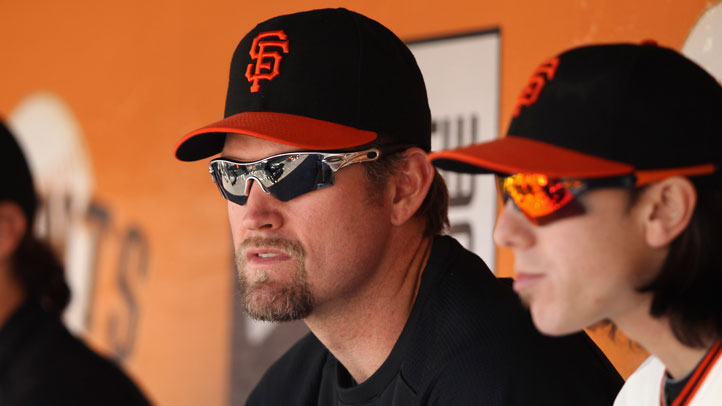 Over the past few weeks, Aubrey Huff got some unwanted attention. His noticeable absence, which was explained as him being away on a "personal matter," turned out to be an anxiety issue.
And over the weekend, Huff opened up about the problem to Hank Schulman of the San Francisco Chronicle, talking about what made him bolt from the team before Monday's doubleheader in New York.
"I couldn't breathe," Huff recalled. "I felt I was taking short breaths. Right then and there I thought I was having a heart attack. I told myself, 'I'll be damned if I'm going to be sitting in this hotel room and die of a heart attack. I've got to get out of here.'"
According to Huff's recounting of the events, he went home, had another panic attack, called the team and told them he was having a family emergency, and then eventually called the trainers and told them what really happened.
Frankly, it's hard to blame Huff for freaking out; two days after being embarrassed at second base, Huff found himself stuffed into a New York hotel room, staring out over the big city's skyline.
"I open the window and see the New York skyline," he said. "The sun is starting to come up. I see all the huge buildings. I just freaked out. I don't know what happened. I couldn't figure out what it was. The room felt like it was getting smaller, a claustrophobic feeling. I couldn't control one thought in my head. There were so many thoughts going through."
Look, if there's one place you can freak out in a hotel room, it's New York. None of the hotels are bigger than a standard broom closet, and there's usually some sort of wacky stuff going on around or below them. (God help you if you get a fourth-floor room; trust me, it's the worst.)
Huff told Schulman that he was "shaking" and "sweating" the entire way to the airport, where he waited for the plane by lying down on the ground in the terminal. He then spent "the entire flight, still panicked, with his suit coat over his head" the entire way to Tampa.
The plan was to fly back to Cincinnati and meet the team, but Huff panicked again when his driver showed up in Tampa; he now appears poised to rejoin the team in Los Angeles beginning this week.
He's now seeing a therapist and taking medication.
Huff's going through a divorce, he's heading towards the end of his career, he's being forced to play second base, he just watched his good friend Pat Burrell retire and he's facing the prospect of losing his starting gig to Brandon Belt and Brett Pill.
Stuff all of those issues, plus Huff's lanky frame, into a New York hotel room and it's not shocking that something started simmering uncomfortably.