A thief broke into the home of the nation's oldest full-time park ranger, punched her and stole a special coin given to her by President Barack Obama when she was honored before Christmas in Washington, D.C.
But it seems the president will soon send her a replacement coin, according to Betty Reid Soskin's boss at the National Park Service.
An unknown assailant broke into the 94-year-old's second-floor apartment through her sliding glass door about midnight on Monday, punched her several times and dragged her out of her bedroom into the hallway, according to Richmond, California Police Lt. Felix Tan. He asked that anyone with information about the attack call detectives.
"This is a vicious, heinous crime," Tan said. "This is vicious enough for anyone at any age."
Tan said Soskin received medical attention for the bruises on her face and is recovering at her Hilltop-area home. She has not returned to work at the Rosie the Riveter WWII National Home Front National Historical Park, where she gves tours five days a week.
[NATL] Bay Area Woman is World's Oldest Park Ranger
Obama honored Soskin for her life's work on in early December at the White House Christmas tree lighting ceremony. The two hugged, and she said at the time that "nothing else tops this."
On the night of the attack, Soskin was awakened by the intruder, who wrestled her cellphone away from her when she tried to reach for it, Tan said. He then punched Soskin several times in the face. She fell. Then he dragged her out of the bedroom and into the hallway, where he punched her again and again.
Soskin was able to crawl into the bathroom and lock herself inside until the suspect left, Tan said. When she finally came out, she discovered that her cellphone, iPad, laptop, camera, jewelry and the special commemorative coin were missing. She called police for help from a neighbor's phone about 1:45 a.m.
The only suspect information immediately available is that the thief was a thin man in his 20s.
Soskin was not immediately available for comment on Thursday. She is an active blogger but mentioned nothing about the home invasion on her site. Her son declined to be interviewed.
Soskin's neighbor doesn't believe it was a random attack.
"Whoever did it had to know something," said Kenneth Moody. "What, I don't know, and I can't tell you."
Her boss, Park Supt. Tom Leatherman, told NBC Bay Area on Thursday that he was one of the first people that Soskin called after the attack. Since then, he's been over to see her every day.
"She's part of our park service family. We're all pretty emotional," he said. "We go from disbelief to figuring out what we can to do help."
In addition to setting up a fund to help Soskin replace her belongings, Leatherman said he got an email this week from Secretary of the Interior Sally Jewell, saying that Obama would replace the coin. "There's a lot of people looking out for her," Leatherman said.
White House and Department of the Interior representatives did not have a comment for this story.
Soskin works full-time, explaining her slice of history to student groups and adults 40 hours a week. During World War II, Soskin worked as a clerk for the all-black Boilermakers A-36.
She's been known as a "Rosie the Riveter," though in the true sense of the word, that title is typically given to female wartime shipyard workers.
Soskin didn't start working for the park service until she was 85, she explained in a YouTube video, and was a stay-at-home mom, raising four children, until she was 50.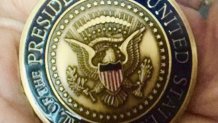 In 1995, Soskin was named "Woman of the Year" by the California State Legislature. In 2005, she was named one of the nation's 10 outstanding women, "Builders of communities and dreams," by the National Women's History Project.
Soskin also made headlines in 2013 when she publicly urged Congress to get its act together and end the furloughs many of nation's federal workers were undergoing. She said she didn't want to waste any time sitting around at home at her age.
Before becoming a ranger, Soskin had been a social activist and, with her late husband, owned a record store in Berkeley.
As for when she'll return to work, Leatherman expected it might be a couple of weeks: "She has some bruising on her face, and she wants to wait for that to heal first."
A fund has been set up to help Soskin on the Rosie the Riveter Trust site. Anyone with information should call Richmond Police Detective Florencio Rivera at 510-621-1755.
NBC Bay Area's Shawn Murphy and Pete Suratos contributed to this report.