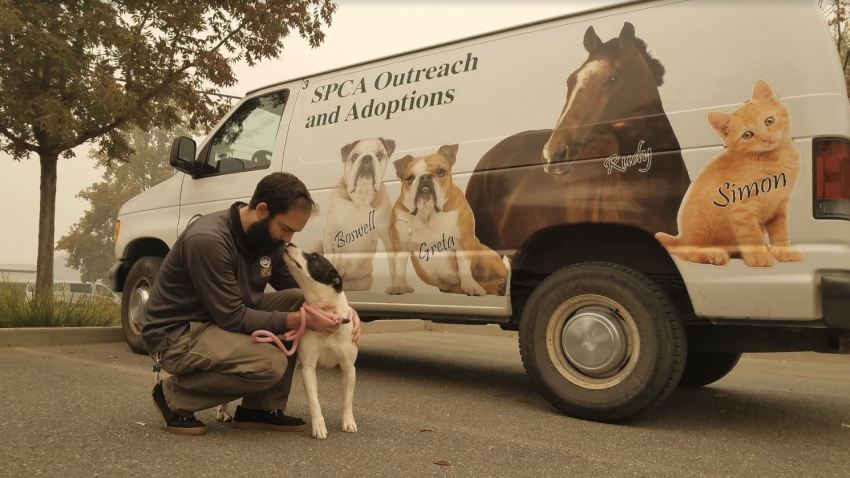 Twenty-seven cats and dogs from a Butte County shelter traveled Wednesday to the Society for the Prevention of Cruelty to Animals in Monterey County to free up room for pets who may be stranded due to the Camp Fire.
Fourteen shelter workers made the five-hour drive from Monterey County to Oroville at 6 a.m. to pick up cats, kittens, five dogs and a puppy, according to SPCA spokeswoman Beth Brookhouser. They returned from the Northwest SPCA at about 6 p.m., Brookhouser said.
The animals were already in shelters before the fires began and will be given necessary vaccinations and surgeries before being put up for adoption in Salinas.
Pets that were separated from their families due to the destructive, 138,000-acre Camp Fire will remain in Butte County to be reunited with their owners.
[BAY DSJ BCN] Butte County Animals Make Room for Camp Fire Victims' Pets
"This is the least we can do to help others in need," Brookhouser said. The Monterey County SPCA received support from shelters across the state when the Soberanes Fire in Big Sur burned almost 60 homes and killed one man in 2016.
Brookhouser said 112 animals are waiting for homes at the Monterey County shelter and all cats five months or older are eligible for adoption without any fees.
The shelter, located in Salinas, hopes to complete adoptions and make room for additional shelter pets from counties struck by an emergency.
Copyright BAYCN - Bay City News