More than 300 PG&E customers were without power in the East Bay Sunday evening, the utility company said.
Here's the latest breakdown as of 10:09 p.m. Sunday: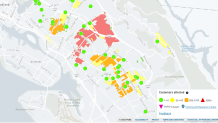 The National Weather Service on Friday morning said strong winds were expected for the Bay Area through Saturday morning.
In Oakland Hills, Russ Taylor still remained without power for most of the day Sunday.
"All day yesterday and a half a day today so far," Taylor said.
A neighbor shared pictures of the damage when a huge tree fell in the neighborhood early Saturday morning hitting a car and knocking down powerlines.
On Sunday, PG&E crews were on scene working to restore power, Taylor was hopeful that the lights would be on by late Sunday afternoon.
"We have a gas stove. So, I made some pasta and had a little head lamp and lantern we had dinner by candlelight we managed to cope," he said. It was a night he won't soon forget.
"It was so windy, I thought the house was going to blow down," Taylor said.
Crews also worked to restore power after another tree fell nearby. PG&E said extra crews and resources are in place. But people in the community… say they're used to power outages with the threat of wildfires there. S/ron cornell, oakland
"We have a propane generator and a couple barbeque tanks that has been getting us by our neighbor has done the same thing," said Ron Cornell of Oakland.
Cornell said he lost power and has been relying on his generator, it keeps his refrigerator going.
He bought it to prepare for potential public safety shut offs
"Three years ago, when we knew the PSPS was were coming, we used it probably 10 times now," Cornell said.