The family of 28-year-old Alejandro Nieto, who was fatally shot by police officers in San Francisco's Bernal Heights Park in March, plans to file a civil rights lawsuit against the city of San Francisco on Friday afternoon following a march and rally in remembrance of Nieto.
Nieto's family held a sunrise vigil at Bernal Heights Park Friday morning to remember him. The ceremony included an Aztec dance and a Buddhist chant.
According to the Nieto family's lawyer, civil rights attorney John Burris, there will be a march across San Francisco in remembrance of Nieto beginning at Bernal Heights Park, where the shooting took place on Mar. 21.
The march will begin at the park at noon and will travel to the Phillip Burton Federal Building at 450 Golden Gate Ave., where a rally will be held at 3 p.m., Burris said.
Burris said he will then file the lawsuit on behalf of the Nieto family against the city for violation of Nieto's civil rights on the grounds that police officers allegedly used excessive force against him.
Nieto, a San Francisco native who lived in the heart of the Bernal Heights neighborhood on Cortland Avenue, was a security guard who attended City College of San Francisco with aspirations of being a probation officer.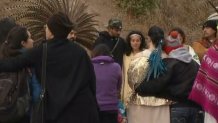 He was also a practicing Buddhist, according to friends and family members.
Police Chief Greg Suhr discussed the incident in the week following the fatal shooting, explaining that a call came into police at 7:11 p.m. on Mar. 21 about a man at Bernal Heights Park wearing a bright red jacket with a black handgun on his hip pacing by a chain link fence near a bench.
The chief said the caller described a man eating either chips or sunflower seeds with his hand resting on what looked like a gun.
Officers arrived at the park within minutes and encountered Nieto with what they believed to be a gun in a holster while standing about 75 feet away with his back against the setting sun.
According to Suhr, when police asked Nieto to show his hands, he said, "You need to show your hands."
Suhr said Nieto pointed his weapon at several officers, prompting them to fire multiple rounds at him.
"They fired in defense of their own lives," Suhr said.
Nieto was pronounced dead at the scene.
Suhr said the officers thought Nieto had a firearm on him, but after the incident it was determined that because of mental health reasons, Nieto was prohibited from legally owning a gun.
He had only a Taser stun gun on him at the time of the incident and Suhr said it could have been misconstrued by officers as a real gun.
Nieto apparently had no criminal record, according to Suhr, but the week prior to his death a restraining order had been filed against him by a man who said he used to be friends with Nieto.
In the court document requesting the restraining order, the man said he had been attacked by Nieto in front of his 3-year-old son and that he feared for his wife and his three young children.
Nieto previously had a restraining order against the man, who described their deteriorated friendship as "bad blood" and in other court filings claimed Nieto had fired his Taser at him at least four times.
San Francisco Police Commission President Thomas Mazzucco has said there are multiple investigations being conducted to see if officers used "appropriate force."
The website Justice4AlexNieto.org states that Friday's event will be a march for civil rights against police killings.
There was a sunset vigil held Thursday evening and a sunrise ceremony is scheduled for 5 a.m. Friday at Bernal Heights Park in memory of Nieto, according to the website.
Copyright BAYCN - Bay City News