The FBI on Monday announced it had arrested a California man — a former Marine and Harvard University graduate who suffers from bipolar disorder — in the kidnapping of a Vallejo woman that was once considered a possible hoax.
"Today is a fabulous day for Denise Huskins and Aaron Quinn," said Huskins' attorney Doug Rappaport, standing next to his client and her boyfriend at a press conference Monday afternoon. "Nearly four months ago we told you she was innocent, that she was the victim of a violent crime ... Today there is vindication," he said, calling the alleged kidnapper a "psychopath."
Neither Huskins nor Quinn spoke at the press conference because of their pending trial, their attorneys said. "What they are interested in is getting their reputation back, their lives back and moving on," Rappaport said. "No matter how bizarre the facts are we were confident these were good people."
Suspect Matthew Muller's Sacramento-based attorney, Thomas Johnson, told NBC Bay Area his client planned to "plead not guilty to the federal kidnapping charges against him in the Eastern District of California."
Johnson also said that Muller is in a "difficult place" as he, a man struggling with a "mental disease," faces both state and federal charges. The attorney plans to quickly "sort out" the evidence linking Muller to incidents in Vallejo and Dublin.
A pair of swim goggles – allegedly used in the March kidnap case – and then found in the suspect's Ford Mustang in Tahoe last month, connected Muller, 38, of Orangeville, Calif., to the crime, the FBI affidavit states.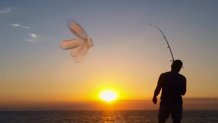 That's because there was a "long blonde hair" stuck to the goggles with duct tape, and the victim in the Vallejo case – Denise Huskins – also has long blonde hair. The arrest warrant, however, did not state whether the hair found on the goggles was indeed Huskins', and the FBI wouldn't answer that question specifically.
Federal documents also state that Huskins reported she was sexually assaulted twice during her abduction. FBI spokeswoman Gena Swankie would not say if agents are looking for other suspects, only that this continues to be an "active investigation." The victim statements imply there are at least two kidnappers.
The surprise revelations come more than three months after Huskins and her boyfriend Aaron Quinn both reported they were kidnapped and then were questioned by Vallejo police about the veracity of their story.
Huskins and Quinn were so upset by these allegations that they hired attorneys to defend them and demand an apology from police – which, as of Monday morning, they had not yet received. In an email, Vallejo Police Lt. Sidney DeJesus referred all questions, including whether there would be an apology for calling the kidnap allegations a trick, to the FBI.
"I think it's been a difficult, terrible situation for all of us," said attorney Dan Russo, speaking for the couple at a Monday news conference. "We are hoping that Vallejo PD steps up to the plate. We firmly believe there are other people involved and we want them off the street ... At this point an apolgy is no good, apologies don't do anything, what we want to see is some real action, we want to see the person associated with these terrible things off the streets."
Rappaport said Vallejo police failed to ask the basic questions and instead rushed to judgement.
Vallejo police responded to Monday's developments with a "no comment."
Muller was arrested on June 29 for allegedly kidnapping Huskins and Quinn in March, though the FBI documents do not name either victim. The documents in the case were unsealed on Monday.
The FBI said Muller was arrested following a home invasion robbery in June in Dublin, which had many "similarities" to the Vallejo kidnap, the FBI said. Muller's attorney said his client has already pleaded not guilty in the Dublin case. Palo Alto and Mountain View police on Tuesday added that they are investigating Muller for a 2009 home invasion robbery that also bears some similarities to both the Vallejo and Dublin cases, after the robbers blindfolded a victim and took off without harming the person. One of the robbers was described as "tall and lean," according to Palo Alto Police Agent Rich Bullerjahn.
In a 56-page arrest warrant, Muller is listed as a Marine from 1995 to 1999 and a 2006 Harvard graduate. The document also says that Muller taught at Harvard from 2006-2009.
He is also a disbarred San Francisco immigration attorney, according to the California State Bar. The FBI affidavit states that Muller told authorities that he suffers from "Gulf War Illness" and is bipolar. According to federal documents, he filed for bankruptcy in 2014.
Specifically, Muller was arrested last month after a couple was tied up, Dublin Police Lt. Herb Walters said. In the Dublin case, Muller was charged with attempted degree residential buglary, and is scheduled for a preliminary hearing on Aug. 27.
A sworn affidavit containing allegations against Muller highlight new – and bizarre – details of the March 23 kidnap that involve stolen Wi-Fi passwords, swim goggles and wet suits.
And the FBI agent who wrote it also specifically mentioned that the victims were under a cloud of suspicion, which became a huge part of the case. "As explained below, law enforcement actually made a public statement that this was not a kidnapping," FBI Sepcial Agent Jason Walter wrote.
But according to Walter's report, the situation was very serious: The woman who was kidnapped said she was sexually assaulted twice, on March 23 and 24. (NBC Bay Area does not typically identify victims of sexual assault, but is doing so in this case because of its extraordinary nature. Huskins also appeared Monday at a news conference in front of a bank of cameras.)
Huskins was taken to a hospital in Napa, the affidavit reads, but there was no "physical evidence of non-consensual sex." The affidavit also states that there were inconsistencies in some of her testimony.
Still, according to the affidavit, on March 23, at approximately 1:53 p.m., a man – later identified in media interviews as Quinn – called Vallejo police to report that his home on Kirkland Avenue had been broken into during the early morning hours. He also said that somebody "forcibly drugged" both him Huskins, and used his car to take both of them to an unknown location.
The suspect or suspects shone a bright light in his eyes and possibly took out a stun gun.
The suspect then order Huskins to bind her boyfriend with zip ties and told both to enter the bedroom closet, the FBI affidavit said. Then, the suspect covered Quinn's eyes with swim goggles and stuck headphones over his ears, the FBI said.
The headphones were used to play a prerecorded message that provided instructions, indicated that the break in was being performed by a professional group on site to collect financial debts, and threatened that both victims would be hurt by electric shock or by cutting their faces if either of the two victims did not comply, according to the affidavit.
The suspect then obtained financial account numbers and passwords from Quinn, as well as Wi-Fi information, the FBI said.
Quinn was placed on the couch told he was being watched on camera so he better not try to free himself, the FBI said. Quinn asked for a blanket because he was cold, but the suspect said he couldn't tell the temperature because he was wearing a "wet suit," according to the affidavit.
Quinn then fell asleep on the couch and freed himself once he woke up. But he noticed that Huskins was missing. He was able to find both his and his girlfriend's cell phones. His phone contained a voicemail message with a financial demand of two payments totaling $8,500 each and instructions to tell those who inquired about his transactions to say the funds were for purchase of a ski boat, the FBI said.
Two days later, Huskins was released, found walking around in Huntington Beach near her mother's hosue.
Then, on June 5, a home was robbed in Dublin, and police there, along with the Alameda County Sheriff's Office, identified Muller as the "subject of the investigation."
On June 8, the sheriff's office searched a home in Lake Tahoe associated with Muller, and arrested him there, the FBI said. The goggles were found in his Mustang.
Anyone with information is asked to call 1-800-CALL-FBI.
NBC Bay Area's Riya Bhattacharjee, Mark Matthews, Jodi Hernandez and Gonzalo Rojas contributed to this report.
EDITORS NOTE: The article originally said Muller was a professor at Harvard from 2006-2009, but according to Harvard Law School, Muller has never been a Harvard professor. The law school said "someone with the same name" had once held a post as a research assistant.