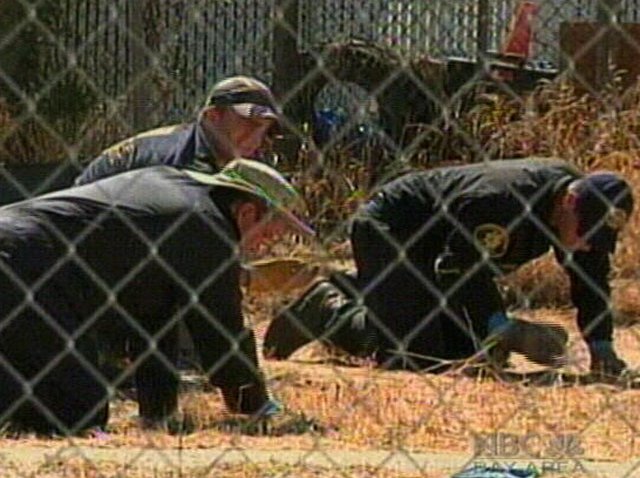 Investigators with the Hayward and Dublin police departments spent Monday digging up several locations of Phillip Garrido's property in Antioch only to find very old bones that appear to be from an animal.
The digging locations were chosen by two different dogs trained to find historical and human remains. An underground sonar detector also found an anomoly in the same area that could indicate something was buried at the site.
The signs of disturbed soil and the discovery of bone fragments were found on the property where Jaycee Dugard was held captive for 18 years.
Hayward and Dublin police have been at the Garrido property for nearly a week investigating if there are any possible links between Phillip Garrido and the unsolved 1988 abduction of 9-year-old Michaela Garecht outside a Hayward market and the 1989 disappearance of 13-year-old Ilene Misheloff in Dublin.
Search crews began digging at the site midday Monday, according to reporters on the scene.
They dug out one foot at a time and found what experts say are very very old bones and bone fragments that appear to be from an animal.
They also dug in the neighbors yard at the site of a septic tank. That dig came up with no new leads.
Most of the search team took the weekend off, but a small group continued to clean out debris so that search dogs could have a clear canvas to do their work Monday morning. The dogs arrived at first light and were done with their work by 8 a.m. Investigators say at least one of the dogs had a hit at the same general area of focus.
Investigators say if they don't find any more underground leads Tuesday, they may wrap up their search.
The mother of one of the missing children came to the home Monday to thank the police for their new effort to find her daughter.
Sharon Murch, who is Michaela's mom, says she believes they will find human bones, but added "I am not by any means convinced it could be Michaela, but if it is her I'd like to be there," said Murch. "I don't know how much more of this I can take," she said.
Murch told reporters the Hayward police department is the best department in the world. She said a friend was worried about her going to the site, but Murch said she wasn't worried because there would be "plenty of loving arms to catch me if I should fall."
Also over the weekend, the San Francisco Chronicle reported that Dugard has told investigators Garrido did not sexually assault her two children which he fathered.
Bill Silva, a professional archaeologist who has led excavations for ancient skeletal remains and historical artifacts in California, spent Thursday and Friday pushing a ground penetrating radar in a grid pattern around the Garrido property.
On Friday, he picked up signs of disturbed soil that could indicate a pit where previous digging has occurred. There is a chance the areas, called anomalies, were caused by the tree roots.
"We're removing concrete slabs that inhibited dogs and machinery to get a look at that area," Kurt von Savoye of the Dublin Police Department said. "(We) removed sheds that the dogs and machinery couldn't get to before."
Thursday was the first day a cadaver dog picked up a scent on the same spot.
"The handlers say that alert was on some decomposing flesh," Chris Orrey of the Hayward Police Department said .
Bones were also found on the Garrido property and the property next door. The bones are being tested to determine if they are animal or human. At least one bone on the neighboring property has been determined to be human, but tests are still be conducted to see if it matches any missing persons cases.
"We haven't come up with the one item that makes people get excited. That's how investigations go," Orrey said.
Pictures taken by the Contra Costa County building inspectors showed how Jaycee Dugard and her young daughters lived in squalor with the Garridos.

Police said their respective agencies are not in direct contact with Dugard, but she has been asked questions about the two missing girls.
Garrido and his wife, Nancy, have been charged in the 1991 kidnapping of Dugard, who was reunited with her family last month after authorities arrested the couple. Prosecutors say they hid Dugard in their Antioch backyard. The Garridos have pleaded not guilty.
While Hayward and Dublin authorities have not directly interviewed Dugard, who was abducted outside her South Lake Tahoe home in 1991, they have asked other law enforcement agencies involved in the case to ask questions for them, Orrey said.
Dugard has not supplied information to indicate the Garridos were involved in the kidnappings of Garecht or Misheloff.
Investigators have also dismantled the hidden encampment of sheds and tents where authorities say Dugard was held and lived with the two daughters she had by Garrido. They also removed 19 truckloads of debris from the yard and looked inside the Garrido's house.
Copyright AP - Associated Press