A great white shark attack in Santa Cruz has triggered a four-day beach ban by city officials.

The decision comes after a shark on Tuesday chomped on a man's kayak near a popular surfing spot next to West Cliff in Santa Cruz. The kayaker managed to escape without injury.
Steve Lawson was paddling about a quarter mile away from Steamer Lane when the shark lurched toward his kayak and bit the front end, knocking him into the water, as reported by NBC affiliate KSBW.
"I felt like I hit a rock," Lawson said. "I saw a shark biting the front of my boat. When he let go, it rocked the kayak and I fell out."
For the next 10 minutes or so, Lawson floated in the water wondering if the 12-foot long shark would double back.
"I was frightened," he recalled. "I was trying to climb on top of the kayak, but I was not able to do that."

Fortunately for Lawson, people in the area and a U.S. Coast Guard crew plucked him from the ocean and towed in the kayak, which now features brand new bite marks.
Despite the attack, Lawson vows to return to the water. Only this time, he plans to stay a little closer to shore.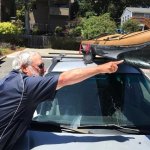 News of the attack prompted scores of surfers enjoying the waves near Steamer Lane to hop out of the water.
The Santa Cruz Fire Department received a call about the attack at 11:01 a.m.

In accordance with the Santa Cruz County Shark Incident Action Plan, the city will close access to Main Beach, Cowell Beach and other beach access points within a one mile radius of the attack for four days. All water activities at the beach will be prohibited until sunrise July 15 morning.
In the meantime, Marine Safety staff and lifeguards will monitor the area. The city has notified partner agencies in the area and Santa Cruz Junior Guard activities will be modified for the week.
"Attacks like these are extremely rare in Santa Cruz County, and we are so thankful that the kayaker was uninjured," said Santa Cruz Fire Chief Jim Frawley. "This is a reminder that swimming in the ocean does carry some risk and we encourage all swimmers, surfers, and kayakers to be mindful of their surroundings and follow directions of lifeguards and Marine Safety staff."
This is not the only shark sighting in Santa Cruz in recent weeks. A few surfers at Sunday's memorial paddle out for legendary surfer and wetsuit pioneer Jack O'Neill said they spotted a 15-foot shark breaching the surface of the water.