A 24-year-old man on trial for robbery in San Mateo County now faces jury tampering charges after he allegedly went to the homes of two jurors in Burlingame and Redwood City, prosecutors said.
Rommel Narvaez, a San Francisco resident, was on trial for two counts of armed robbery from 2013, and last Tuesday allegedly contacted an alternate juror and one who had been excused, according to the San Mateo County District Attorney's Office.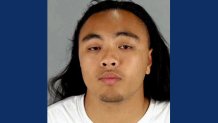 The teenage daughter of one of the jurors found him peeking in the window of their home after she had gotten out of the shower. He also allegedly left a written note at the other juror's home, prosecutors said.
"He said he was seeking to meet and talk about what she thought of the case," District Attorney Steve Wagstaffe said.
Judge John Grandsaert then declared a mistrial in the 2013 robbery case and prosecutors filed new charges of jury tampering, violating a court order and prowling.
Narvaez made his initial appearance on the new charges Friday and will return to court Wednesday to possibly enter a plea, then will come back Thursday to set a new trial date in the robbery case, prosecutors said. He remains in custody on no bail-status.
Wagstaffe said he is aware of only a few jury tampering cases in San Mateo County during the four decades he's been with the district attorney's office.
Narvaez was initially charged with robbery for cases in April 2013 in which he allegedly lured victims to locations in Daly City by posting phony Craigslist ads and then robbed victims at gunpoint, prosecutors said.
While out on bail on the robbery charges, Narvaez in October 2013 was shot by San Francisco police after allegedly hiding in a bush and brandishing a gun following an attack in the city's Marina District, San Francisco police said.