Quirky community gatherings are arguably one of the most endearing aspects of small-town life.
One such event is Martinez's annual Mutt Strut, a canine beauty pageant that historically prides peppiness over pedigree. Brimming with local charm, it's hardly the Westminster Kennel Club dog show.
Pet owners flocked to the Martinez Waterfront Ampitheater last Thursday to celebrate the pageant's 15th iteration — a milestone marked by a hefty turnout of about 75 people, including many newcomers, and their beloved pooches.
Dogs competed in the town's traditional categories, including "Best Costume," "Best Trick, "Looks Most Like Owner," "Best Tail" and "Best Name."
A King Charles Cavalier named Honeybee, clad in a sundress, nabbed the top spot at the pageant, which was thrown by the city's Parks and Recreation Department.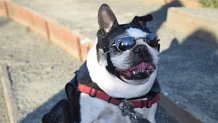 Cathy Malkin, a judge at the Mutt Strut and self-described "animal muse," said that the team looks for "individuality, joy and the interaction between the dog and their person." Even in the tricks category, failures to perform on cue were met with laughs rather than groans.
The winners went home with some free treats and toys provided by Petfood Express, while owners left with year-long bragging rights.
David Barnes, a Martinez resident, brought his two Weiner mixes — fittingly named Oscar and Mayer — to compete in the "Best Name" category. The trio took second place.
Barnes said he participated in Thursday's event mostly for fun, but also to give his two pooches a chance to socialize.
"I got my dogs from the county pound," Barnes said. "They started out as fosters and got an 'F' on their assessment tests, but after working with them for about eight months, they're a lot more confident. I wanted to give them a chance to show that."
When asked what she thought of this year's turnout, Malkin said it was "the best yet" and that she's looking forward to next year's competition, which will likely take place in September.
Gillian Edevane covers Contra Costa County for NBC Bay Area. Contact her at Gillian.Edevane@NBCUni.com.