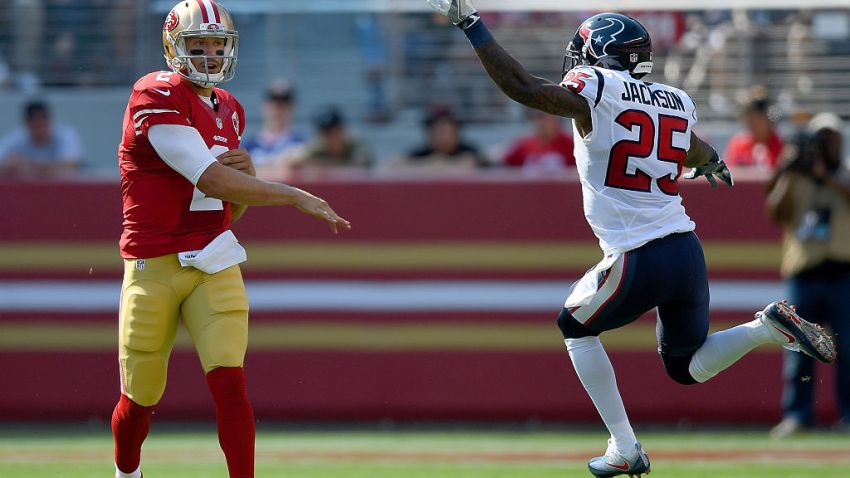 For the most part, Mike Davis had a forgettable rookie season for the 49ers.
The running back from South Carolina, a fourth-round pick, played just six games because of injuries. When he was in the lineup, he didn't make much of an impact. In 35 carries, Davis gained just 58 yards, a paltry 1.7-yard average per attempt.
On Sunday night, in the 49ers' opening exhibition game, Davis surpassed that total on just five carries, gaining 72 yards in San Francisco's 24-13 loss to the Houston Texans at Levi's Stadium.
A 44-yard chunk of that was picked up on one play, a burst up the middle on a second-and-8 late in the first quarter that set up a Phil Dawson 25-yard field goal.
Davis also had two catches for 17 yards.
Tweeted Al Sacco, who writes about the 49ers for a couple of websites: "He (Davis) looks like a different player."
Davis came into training camp at a lighter weight and more fit, determined to earn snaps in Chip Kelly's new faster-paced spread offense. Carlos Hyde figures to be the No. 1 running back but Davis – who also is considered a terrific pass blocker – could become a key piece of the offense.
Earlier this training camp, Cam Inman of the Bay Area News Group wrote that the 49ers are likely to carry four running backs on the roster. Davis went into Sunday night's game listed as a third-team back (along with DuJuan Harris), behind Hyde and Shaun Draughn. But rookie Kelvin Taylor also figures to play a role. Kendall Gaskins also is in the mix. It should be stern competition for roster spots and playing time.
Sunday's game featured a start by quarterback Blaine Gabbert, with co-No. 1 Colin Kaepernick out with a sore shoulder. Gabbert was 4-of-10 for 63 yards. He had a couple of early misfires but settled in, throwing a 43-yard TD pass to tight end Vance McDonald and picking up 18 yards on three scrambles.
The 49ers play their next exhibition Saturday in Denver vs. the Broncos.