With all of its 661 officers equipped with body cameras, the Oakland Police Department has more cameras on the streets than any other police agency in the Bay Area. In an exclusive interview with the NBC Bay Area Investigative Unit, Oakland Police Chief Sean Whent talked candidly about his department's body camera program and how the agency tracks and collects video. "There were some bumps along the way," Chief Whent said. "But at this point we are capturing the data we want to capture."
According to data from the Oakland Police Department, of the 504 use of force incidents last year, 24 were not captured on camera. That puts the department a 95 percent success rate of recording use of force incidents.
The Oakland Police Department, however, did not make those numbers public until months after the NBC Bay Area Investigative Unit originally requested the information. Whent says he expects his officers to turn on their cameras as required by policy. But what happens when they don't? The discipline can run the gamut. "In the event the officer has no prior history of it, then in most cases it can be dealt with informally," Whent said. In other cases, he said it becomes a disciplinary matter.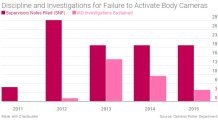 In the cases where officers were not recording, 20 officers received reprimands from their supervisors and the remaining four got sent to internal affairs for investigation and discipline. These numbers are in line with other departments that use body cameras, such as the Richmond Police Department which turned them on 92 percent of the time in the last six months.
The Oakland Police Department has seen a 66 percent decrease in use of force incidents since the department started issuing body cameras to all of its officers in 2011.
When Cameras Are Rolling
The Oakland Police Department released video of two incidents with suspects that ended in their deaths.
In one case, police body camera videos shows officers chasing 24-year old Nate Wilks on August 12 2015 after he crashed a car and allegedly tried to carjack another vehicle. In the video, you can clearly see Wilks holding a gun and running while officers are chasing him. Wilks then stops, turns around and started moving toward an officer. One officer yells, "Get on the ground! Drop it! Drop the Gun!"
Wilks continues towards the officer and all the officers open fire, killing Wilks.
The second incident also involves a police chase. The body camera videos show officers with their guns drawn running on top of rooftops looking for 23-year old Richard Linyard. One officer eventually spots Linyard wedged between two buildings. Police called for medical help and performed CPR, but he later died.
Whent says since Oakland started using body cameras, he's seen his officers buying into the program. "The officers really believe that it benefits them," Whent said. "Virtually every complaint we get now the incident is captured on video. Overwhelmingly that video supports the police officers, not always, but in the vast majority of the cases it's showing that officers are behaving appropriately."
Overall, citizen complaints against the Oakland Police Department are down. In 2011, the year the body camera program officially went into effect, there were 1447 complaints. In 2015, that number dropped to 1009 complaints, down nearly 30 percent. "We think that's a good indicator that it's helping," Whent said.
When Cameras Are Turned Off
In February, the NBC Bay Area Investigative Unit talked to Alameda County Public Defender Seth Morris, who said he's seeing more Oakland officers actively turning off their cameras. "We have video footage of an officer looking at another officer and pointing to their chest which is where their camera is and saying let's have this conversation in a moment," Morris said. He believes that's code for officers to turn off their body cameras. "It's an unwritten code that the police officers have developed in response to the fact that they're being recorded now all day long."
Despite Whent's current candor, he did not make himself available for an interview when the first report aired in February.
Whent says Oakland policy allows officers to stop recording when they're talking about strategy or making tactical decisions. "I guess I can see why from a public defender perspective it may appear to be suspicious but the reality is that officers have to have conversations that shouldn't necessarily be recorded," Whent said. "Sometimes there would be tactical decisions they want to talk about how they're going to tactically approach some particular scene that we don't we don't record."
Whent says body cameras record more interactions between officers and civilians than ever before. He said officers upload approximately 12 terabytes of data every month. The Department gave access to much of that data to Stanford University for a study using advanced computer linguistics to analyze the video for interaction between cops and citizens. The goal: to use the information as an additional training tool. "We always want to improve and I think this partnership gives us a great opportunity to be able to do that," Whent said.
If you have a tip for Vicky Nguyen about this or any other story, you can email her directly at vicky@nbcbayarea.com or you can email theunit@nbcbayarea.com or call 888-996-TIPS.
Follow Vicky Nguyen on Twitter www.twitter.com/VickyNguyenTV and Facebookwww.facebook.com/VickyNguyenTV