Passengers inside a limo carrying members of a band that features Ozzy Osbourne's ex-guitarist escaped a fiery scene during rush hour traffic in San Jose on Wednesday.
The California Highway Patrol said six or seven members of the band, identified by officers on the scene as Red Dragon Cartel, were in the back of the limo when the fire broke out around 6 p.m.
San Jose police said the fire happened after the limo's electrical system began to short out.
All passengers managed to escape from the limousine on I-880 near Stevens Creek Boulevard. Some lanes of Interstate 880 were blocked.
Darren James Smith, the band's lead singer, said they were traveling on the freeway when they smelled burning wires and the vehicle filled with smoke.
The band is led by Jake E. Lee, who played guitar in Ozzy Osbourne's band during the mid-1980s. The group was set to play the RockBar in San Jose on Thursday night. Lee was not inside the limo on Wednesday, the show's promoter told NBC Bay Area.
Darrin Theodosis, who was driving the limo, feared his passenger would get trapped by auto-locking doors.
"I had my finger on the unlock button because as soon as you reach a certain speed on the car it automatically locks," he said. "So I just wanted to make sure the doors would be unlocked so they could get out right away."
One door did jam, but all band members were able to escape.
Drummer Jonas Fairley said they are grateful to be alive.
"It keeps your mortality in check and makes you think and realize how grateful I am to be here," Fairley said.
Five nurses were killed back in 2013 when a limo caught fire on the San Mateo Bridge.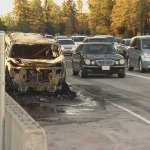 Thanks buddy all is ok https://t.co/BNH1RiKrRp — Rockbar Theater (@RockbarSJ) September 10, 2015
SHOW IS TONIGHT! Members of Jake E. Lee's Red Dragon Cartel escape limo fire on I-880 http://t.co/cIk69cwFHd @reddragoncartel @rockbarsj — Music Junkie Press (@MARIRICHARDSON) September 10, 2015