The Second World War may have ended 70 years ago, but that doesn't mean all its secret missions are over.
Just ask the group of women at Pleasanton's Stoneridge Creek Retirement Community who recently completed a months-long, WWII-related secret mission.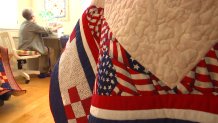 "Oh yeah, it was secret special ops, yes," Kate Kelly, a member of the group, said.
Kelly says the whole operation began right around Veterans Day last year, when she and others began to realize just how many of their neighbors had served in the military. "Here at Stoneridge Creek, over 20 percent of our population have served and that's stunning," Kelly said. "To imagine we have 21 living World War II vets among us right now is incredible."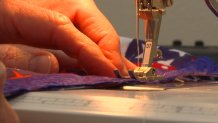 With so much history around them, and dwindling time to act, Kelly and fellow Stoneridge residents began interviewing the vets out their service. The stories and photos they gathered were then collated in leather-bound binders to be housed at the complex's library.
"Here we had this wonderful opportunity and we weren't going to waste it," Kelly said.
WATCH MORE BAY AREA PROUD STORIES
But they wanted to do more. They wanted to thank the vets as well.
It was then, Kelly says, someone mentioned Quilts of Valor, a national group that custom makes military-themed quilts for veterans. The Stoneridge Creek group contact the local chapter of Quilts of Valor and began quilting. And quilting. And quilting.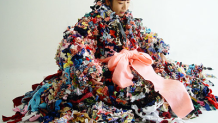 "It's been in secret for months. Sewing machines have been humming," Kelly said.
It all lead up to this years Veterans Day when, during Stoneridge Creek's annual celebration, when each of the community's 21 vets were presented with a quilt personally made for him or her.
"I'm just overwhelmed. I really am," said Milt Feldman who served in the US Army from 1942 until 1945.
The quilts, months in the making, became instant heirlooms in the hands of the grateful veterans.
The quilters say it was just one more way to say thanks to the people responsible for so much of what the rest of us have to be thankful for.