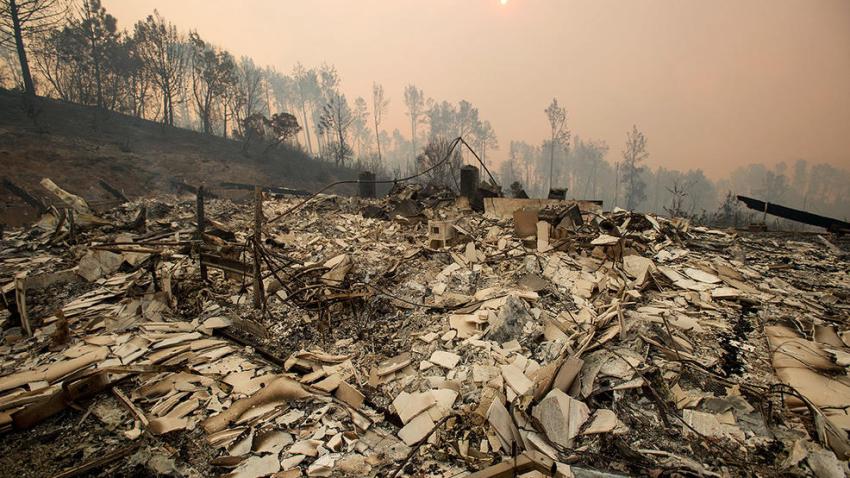 Almost one week since the Loma Fire ignited in the Santa Cruz Mountains and sent a pluming mushroom cloud soaring into the South Bay sky, emergency crews continue to make ground in the firefight.
The 4,474-acre fire, which has destroyed 12 homes and 16 outbuildings, along with forcing several evacuations, was 71 percent contained as of Sunday evening, according to Cal Fire.
Eighty-one structures remain threatened, but Cal Fire said Sunday that they hope to completely contain the flames by Monday thanks to favorable weather conditions.
Dramatic Images: Destruction, Aftermath of the Loma Fire
The blaze "made minimal progress" during the overnight hours Sunday, Cal Fire said. Cooler temperatures and showers during the early afternoon hours on Sunday benefited the more than 1,300 firefighters battling the blaze.
Mandatory evacuations were lifted Sunday at noon for folks living on Summit Road from Loma Prieta Road to Highway 152, Cal Fire said.
Evacuation orders in Santa Clara County remain in effect along portions of the Loma Prieta ridgeline area including stretches running along Summit Road east of Soquel San Jose Road to Ormsby Fire Station. Those evacuations also include Loma Chiquita, Casa Loma and Loma Prieta Way, according to Cal Fire.
Despite those mandates, some folks were able to return home late Saturday after receiving word that the coast was clear.
"I think we held hands and cried," Lucie Vogel said after settling in with her husband and numerous pets.
This is the fourth significant wildfire to rock the area in 14 years: The Croy Fire erupted in 2002, the Summit Fire broke out in 2008, and another Loma Fire burned in 2009.
The origin and cause of the Loma Fire remain under investigation. An evacuation center can be found at Morgan Hill Presbyterian Church at 16970 De Witt Ave.
[NATL-BAY] Photos from Fire in Santa Cruz Mountains