There was a time when Rodney Ewing gripped a gun, outfitted head-to-toe in combat fatigues, patrolling a patch of strangled Iraq desert, when dark clouds suddenly began to swarm overhead.
"So you see everybody putting on their rain gear," Ewing recalled of the incident during Operation Desert Storm. Suddenly his Army unit realized it wasn't rainclouds forming at all.
"It was the smoke when Sadaam was burning up the oil fields," Ewing said. "The spookiest thing we've ever seen.'"
These days, Ewing clutches painting brushes instead of a rifle. And his unbridled terrain is an art studio in San Francisco's South of Market where he was recently busy preparing works for a San Francisco Arts Commission gallery show devoted to the experience of military veterans.
For his contribution, Ewing folded 20 drab green army blankets with military precision as a tribute to his late father, who fought in Vietnam and served 20 years in the Air Force.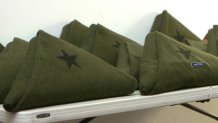 "My father passed away a little over a year ago," Ewing said folding one of the blankets. "I folded them in the same way that the American flag that my mother has now."
The Arts Commission show is titled Not Alone: Exploring bonds Between and With Members of the Armed Forces. It runs through March 4th in San Francisco's War Memorial Building. Most of the artists in the show are military veterans, now exploring the emotions of post-military life through art.
"I don't think people relate veterans with artists," Ewing said, clarifying that he was making art before he was in the military.
Photographer Amber Hoy was 21-years old when her Army service landed in her in Operation Desert Storm. The ammunition specialist also armed herself with a camera during training and in her time in Iraq. Her photographs in the gallery show depict her young fellow-soldiers holding rifles, the endless desert, and photos of Hoy wearing fatigues and a grin. A photo of a clump of radishes resembled the heads of her battalion — she said.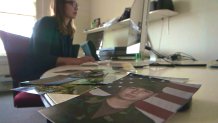 "What I'm trying to do with my work is kind of looking back and understanding," Hoy said, scanning a table covered in prints of various sizes.
Her favorite photograph in the show was a jewelry box filled with things like perfume and dog tags. She said the juxtaposition of feminine and military items sums up her feelings toward her eight years in the Army.
"It kind of fits with the shows title," Hoy said, "that other women veterans aren't alone in their experiences."
Oakland Artist Michael Hall didn't serve in the military but he lived Operation Desert Storm through his father who was served in the war. Several years ago, Hall stumbled on the stacks of letters his father sent him from Iraq, revealing a father trying to maintain a long-distance relationship through radically alternate conditions.
"There's definitely him giving me that standard dad, teenage love advice," Hall said in his Oakland Studio. "There were letters that we were discussing things like 'no blood for oil.'"
For the show, Hall reproduced his father's letters in large watercolor images. Hall said re-tracing his father's handwriting helped him empathize with his father's situation in the war. One letter in particular seemed to explain the motivation for his father's willingness to go to Iraq.
"One of the reasons I don't go crazy being here," his father wrote, "is knowing i don't have to worry about you being here in five years or so."
Ewing said veterans face challenges relating their service to those outside the uniform. There are expectations of service members to contend with — even as veterans themselves grapple to understand their experiences.
"I think people when they think of veterans they either accept it, what was going on," Ewing said, "and they've moved on — or they're troubled."
Hoy said being a young woman in the military was difficult at times. But ultimately, she said she was thankful for the experience.
"I can't really imagine the person I would be today," Hoy said, "without having those experiences."
For more information, check the SFAC Main Gallery.