A San Francisco dentist whose practice is in the heart of the Mission District, and who has spoken openly about the importance of good dental hygiene for pot smokers, was arrested in a New York City drug sting, court documents show.
Jerome Weitz, 63, who has been working in San Francisco since 1982, was arrested in a Yonkers, N.Y., apartment this week after allegedly being in possession of more than $10,000 cash and on his way to receive payment for a large shipment of marijuana, according to court documents. He was arrested after exchanging texts with his dealer, prosecutors said.
Weitz was arrested by the Narcotic Borough Manhattan North. A total of 11 "vacuum sealed plastic bags" weighing about ten pounds were recovered from a duffle bag in the living room where the dentist was staying, the detective wrote in documents obtained by NBC Bay Area.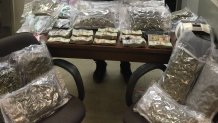 Weitz's son, Joshua Weitz, was arrested last year on marijuana charges, and is currently behind bars, the San Francisco Chronicle reports. The newspaper also reported that authorities believe the elder Weitz stepped in to take over the cross-country marijuana operation after his son was sentenced to one year in jail.
The elder Weitz was being held Thursday afternoon on $75,000 bail in a New York City jail, charged with criminal sale of marijuana and conspiracy, prosecutors said. His lawyer did not immediately return requests to the Chronicle for comment.
Weitz became the target of a New York City police undercover investigation when a man he was allegedly selling pot to, Rodolfo Bastardo, was arrested with bags of marijuana hidden in a locker, court documents said.
A third man, Douglas Caraballo, who was allegedly linked to Bastardo through a previous drug deal, undercover officers said. Caraballo was also arrested this week.
On the elder Weitz's dental website, there is a video that discusses the importance of brushing your teeth if you are a regular cannabis user. As of Friday morning, that video was marked private and unavailable for viewing.